Sir Frederick Treves (1853-1923) - Ancestry
It was his grandfather William TREVES (1773-1829) a cabinet maker by trade who first settled in Dorchester. He married Elizabeth GREENING at All Saints Church Dorchester on 10th Oct 1796 and they settled at Cornhill in St Peters Parish where William established a furniture upholstery business. It appears from his Will that he managed to generate a steady income by hiring out furniture and they raised a family of eight children together. William set up his eldest son Philip TREVES (1800-1831) at Cornhill as an Ironmonger and he married Rebecca the daughter of Joseph and Elizabeth ROLLS [ROLES] in her home parish of Melcombe Horsey in 1825. William died in 1829 leaving a Will naming Philip as executor but making provision for his surviving wife and children with an estate of £1,000. Philip's younger son William was then 17 years old and continued to run the upholstery business at Cornhill until he inherited under his fathers Will half the stock in trade when he reached the age of 21 which was in 1833.
---
His father William TREVES (1812-1867) Junior was the 7th of their 8 children and born at Dorchester on 2nd August 1812. He was baptised three weeks later at St Peters Church on 25th of the same month. Pigots Street Directory for Dorchester for the year 1830 shows both brothers operating from Cornhill but his brother Philip died in 1831 and ten years later we find them all still living together at Cornhill, William doing the upholstery trade and Rebecca a widow with her 2 children running the Ironmongers. William then married Jane KNIGHT (1814-1892) the daughter of John KNIGHT who had been born at Honiton in Devon on 4th July 1814. They married at at St Mary's Church in Devizes Wiltshire on 1st Sep 1842 and he brought her back to Dorchester to live with him at number 8 Cornhill. Their business was successful enough for Rebecca to move to High East Street, where she lived next to the Phoenix Inn (No.16), and established a stationery and bookseller's business with her daughter Eliza Jane. William and Jane raised a family of 6 children at Cornhill and by 1851 he was employing 13 men in his business as well as a nurse maid and house servant. Nothing much had changed by the next census held in April 1861 but six years later William died aged 54 on Saturday 20th July 1867. He was buried in the Civic Cemetery on the 25th July and left an estate of just under £9,000. After his death Jane looked to the welfare of her children, sold the business and moved to London with her children. In 1881 she was visiting with her other daughter Frances with David Neves in Hurstpierpoint in Sussex. By 1891 she was living with her daughter Frances at 34 Perham Road Fulham, but died at the age of 77 at 7 Palliser Road in West Kensington on 9th January 1892 leaving her modest estate of just £202 to Frances. The family pedigree states that she was buried at Dorchester so she was probably interred with her husband in the Civic Cemetery.
William and Jane had the following children:-

(1) Dr. William Knight Treves F.R.C.S. (1843-1908) He was baptised at St Peters Church Dorchester on 28 Aug 1843 and by the age of 17 was already studying to be a doctor in Dorchester under the guidance of the Surgeon John Good who had a practice in High West Street. He received further medical education at St .Thomas' Hospital in London and became a G.P and a Fellow of the Royal College of Surgeons.

William married by licence at the age of 26 on 2nd June 1870 at Paddington in London to Julia Katherine Goad (1846-1890) [also recorded as Catherine Good] who had been born in India on 10th Sep 1846 the daughter of Major Samuel Boileau Goad by his wife Emma. She was baptised at Simla in Bengal on 22nd Sep 1846 and a copy of their marriage bond and certificate are available on ancestry.com the bond being dated 25th May 1870. Both confirm that he was from the Parish of St John's in Margate and she was from the parish of Holy Trinity in Paddington. After marriage they lived at 31 Dalby Square in Margate where William had his GP practice. Julia presented him with 4 children that I know of :- (1) Ethel Mildred Treves born 3rd qtr 1872, she married in Bombay India to Charles Hopewell Ford on 25th Oct 1907 (2) Murial Winifred Treves born in the 4th qtr 1873 and baptised at Holy Trinity Church Margate on 26th May 1874 (3) Hilda Katherine Treves baptised at Holy Trinity Church Margate on 3rd April 1874 and (4) Frederick Boileau Treves born 5th Jan 1880 and baptised at John the Baptists Church Margate on 26th Jan 1880, he was educated at Rugby obtaining his MA at Cambridge and went on to become an eminent Surgeon serving in the Great war and being mentioned in dispatches and awarded an OBE. Unfortunately Jane died at the age of 42 on 25th January 1890 leaving a modest estate of only £63.3s.0d. She was buried at Margate Cemetery later to be joined by her husband.

He held the position of District Medical Officer and later as Medical Officer of Health for 20 years and was the founder of Margate Cottage Hospital in 1876. He was appointed its first Medical Superintendent, having a ward in the extension of 1897 named in his honour. William died at the age of 65 on 14th Oct 1908 and was buried at Margate Cemetery in Kent (See picture right by juliakeld @ gmail.com).

(2) Jane Treves (1845-1919) bap St Peters 25th July 1845. She married the Revd. Clement Alfred Neve (1849-1916) at Christ Church in Madras India on 29th Nov 1880. He joined the Christian Missionary Society and was ordained as a deacon in 1879 by the Bishop of London serving at Kottayam Malabar Coast South India from 1879-1890; collated as a priest in 1881 in Travancore serving in the church of Ettamanur from 1892. In 1891 whilst on furlough they were living at Watton in Hertfordshire with their 4 children all born in India. A CMS Missionary at Alleppey Travancore 1893-97; Ettamenur 1899-1902 Prin CMS Colol (Cam Nicholson Institute ) Kottayam 1902-1904. On Furlough 1904/5. Her husband died on 3rd March 1916 at the age of 76 at Haydon Vicarage near Sherborne in Dorset being buried on 17th April 1916 leaving an estate of £3,197.1s.11d.

(3) Frances Treves (1847-1909) baptised at St Peters 4th Feb 1847 she remained a spinster and was living with her mother at 34 Perham Road Fulham in 1891. She was administrator of her mothers estate of £202 the following year and moved to 110 Newington Green living at Mildhay Park where she worked as a Deaconess for the church at the Conference Hall. She died there at Deaconess House on 22nd April 1909 leaving an estate of £4,079. 4s 5d administered by her brother Edward.

(4) Dr. Edward Treves MRCS (1849-1919) baptised at St Peters 14th Feb 1849. On 4th July 1876 he married at All Saints Church at Croxley-green to Mary daughter of the late Isaac Warwick Esq of Highfield House Rickmansworth. Mary had been born c1845 at Maidstone in Kent but after marriage they moved to Kings Cliff in Northamptonshire where Mary gave birth to their first 3 children as shown below. By April 1881 they were living at 11 Grange Park Gardens Ealing in Middlesex where Mary had the help of 3 servants, a cook, a housemaid and a nurse. Although living in Ealing Edward was working at the London Hospital as a house physician and surgeon and gaining a substantial reputation as a leading surgeon. They moved to live at 3 Courtney Terrace in Hove by 1891 when Edward concentrated upon his G.P. Practice and had 2 more children moving locally to 2 The Drive, Hove by 1901. By 1911 they had moved again living at 20 Medina Villas still in Hove where Edward died on 27th April 1919 leaving an estate of £11,466. 1s. 3d administered by his 3 youngest daughters.

(1) Edith Janet Treves born 2nd qtr 1877 alive 1891
(2) Amy Kathleen Treves born 3rd qtr 1878 she married Henry Francis Tasker and was living with her parents in 1911 with her daughter Kathleen Monica Rasker born 1907 at Hamstead in Middlesex
(3) Ruby Traves born 4th qtr 1879 unmarried in 1919
(4) Wilfred Warwick Treves (1883 - ?) who went to Marlborough College under the Rev GC Bell being admitted on 1st Oct 1901; BA 1904; MB; BC worked in the Army Medical service.
(5) Dorothy Treves born 1884 unmarried in 1919


(5) Sir Frederick Treves (1853-1923) born in Dorchester on 15th Feb 1853 and baptised at St Peters on 16th Mar 1853. [See next section below]

(6) Mary Elizabeth Treves (1854-1868) baptised at St Peters 20th Oct 1854; she died at the age of 13 in the district of Lambeth in 1868
---
Sir Frederick Treves (1853-1923) - Education
Sir Frederick TREVES (1853-1923) Was the 5th of six children of William Treves (1812-1867) and Jane Knight (1815-1892) and born at 'Cornhill' in the center of Dorchester in Dorset on 15th Feb 1853. He was baptised in the Parish Church of St Peters on 16th March and grew up with his siblings in relative comfort supported by his fathers upholstery and furniture hiring business.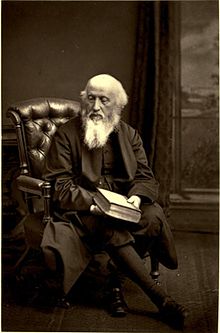 At the age of 7 in 1860 he attended school at the home of the famous poet William Barnes (1801-1886) - picture left - who lived at No.40 'South Street'.
Frederick lived in 'Cornhill' which runs south for a short distance from the center of Dorchester High street (by St Peters Church) and is still there today. The facade of the 'Antelope Inn' in Cornhill has been preserved and was run then, and for many years, by James Yearsley. It was famously used by Judge Jeffreys to hold his court after the Monmouth Rebellion and would have been well known by Frederick in his youth. It's a busy area at the heart of the town as the Antelope was a favourite place for the local magistrates to hear appeals against indoctrination into the Militia and by the time Frederick was there the Antelope ran an omnibus to the Railway station to meet each train and pick up passengers disembarking in Dorchester. It was also where the Royal Mail coach left each day for Lyme Regis and beyond. A good feel for Cornhill and South Street can be gained from my postcard collection to which I have provided this link. Where Cornhill is intersected by Durngate Street the road simply continues south but becomes 'South street' so it was only a short walk each morning for Frederick to attend his lessons.
William Barnes lived just opposite the old Grammar or Free School in Dorchester (picture right). He was already a Clergyman (without care of souls), and had been a schoolmaster for many years operating a school at one time in Durngate Street before he went to St John's at Cambridge. He was an accomplished author of poetry and philology. Apart from the classical languages taught at university, such as greek and Latin, he also spoke Welsh, Hindustani, Persian, Hebrew and a handful of European languages. To supplement his income he took in paying boarders. Frederick later commented about his time at the school:- (2)
"In the same street, but on the other side of the way, was the school kept by William Barnes. He came to Dorchester from 'Mere' and the dwelling in question was the third he had occupied since he tried his fortune in the larger town. It was here, at a tender age, that I had my first experience of school life, My recollection of the poet and philologist is that of the gentlest and most kindly of men. His appearance was peculiar. He had white hair and a long beard, and always wore knee breeches and shoes with large buckles. Out of doors he donned a curious cap and a still more curious cape, while I never saw him without a bag over his shoulder and a stout staff. During school hours he was in the habit of pacing the room in reverie happily oblivious of his dull surroundings. I remember once that some forbidden fruit of which I was possessed rolled across the schoolroom floor, and that I crawled after it in the wake of the dreaming master. He turned suddenly in his walk and stumbled over me, to my intense alarm. When he had regained his balance he apologised very earnestly and resumed his walk, unconscious that the object he had fallen over was a scholar. I have often wondered which of his charming poems I owed my escape from punishment".
During these early years Frederick met Thomas Hardy (1840-1928), whose family lived only a few miles away in the small hamlet of Bockhampton within the parish of Stinsford. Hardy completed his education in Mr. Last's Academy for Young Gentlemen in Dorchester at the age of 16 when he was apprenticed to a local architect John Hicks who lived in South Street where he worked until 1862. Despite a disparity in age they formed a firm friendship which was to last the rest of Frederick's life.
Treves' secondary education was at the Merchant Taylor's School, then in Suffolk Street in the City of London. It was then a English Public Day school under the headmastership of James Augustus Hessey. He soon left however entering University College before becoming a medical student at the East End's London Hospital in 1871.
---
Early Medical Career
In 1875 Frederick qualified as a Member of the Royal College of Surgeons and became a house surgeon, before taking a post as resident Medical Officer at The Royal National Hospital for Scrofula in Margate where he worked until he married Anne Mason in 1877 (See next Section). Frederick decided to chance his arm at general practice, buying a share later that year in the practice of Dr William Milligan of Wirksworth. They lived in a terraced house at 21 Coldwell Street (Picture below) which they named "Treves House". An account of his time in Wirksworth is given in an article written in "Derbyshire's Historic Celebrities" by Peter Seddon and appeared in the Derbyshire Life and Countryside magazine in June 2002:-
"Treves took the place of a Dr Webb, himself a remarkably talented man whose drive and vision were largely responsible for the opening of Wirksworth's innovatory Cottage Hospital, originally situated at Babington House, now a handsome private residence. Wirksworth's Parish Magazine said that "the hospital is intended for the reception of the labouring classes and small tradesmen" and this essentially new concept weighed heavily in Treves' decision to move to Wirksworth, being ever a compassionate and progressive turn of mind.
How different Wirksworth was from the turbulence and urban squalor of London's East end - but how it suited the 24 year old Treves and his young bride, embarking on married life and a new venture from their home in Coldwell Street. Between tending patients in Wirksworth and the farms and villages for miles around Treves cultivated a strict personal regime, making it a general rule to be in bed each night by 10 o'clock in order to be up reading or writing by five or six each morning. Such an assiduous routine not only increased his ever-growing published medical output but enabled him to achieve the coveted status of Fellow of the Royal College of surgeons during his time in Derbyshire.
Regrettably, besides that impressive goal, his stay in Wirksworth also embraced tragedy and an unsettling degree of business unrest and professional jealousy. After he had been in practice only two weeks he opted to give a young local woman with anaemia a blood transfusion, then a revolutionary technique, despite the opposition of other medical opinion in Wirksworth. The patient died and Treves wrote up this failed case in The Lancet, the profession's foremost journal. When he followed this up by penning another somewhat controversial piece after a man's death at the local quarry from a blow to the head, his partners began to murmur about what they perceived as a habit of washing Wirksworth's dirty medical linen in the most public place possible. Undoubtedly jealousies began to fester and when Treves amazed his older and supposedly "more experienced" colleagues by passing his FRCS exams at the first go in 1879 at the age of only 25 he was condemned as an "upstart". A classic case of "him with his fancy southern ways" perhaps, and when a Wirksworth lady of high social standing insisted that the handsome "Freddie", not the local stalwart Milligan, must deliver her baby it was the final straw. In fact, Milligan refused to let Treves be present at the birth and not surprisingly there was a bust-up. Disillusioned by such petty jealousies, the man destined for much greater things left Wirksworth early in 1879 after barely a year and a half in the town".
Whilst still serving at his practice in Wirksworth he had continued his studies and in 1878 passed the examinations for the fellowship of the Royal College of Surgeons (FRCS). On leaving the practice in 1879 he was appointed as surgical registrar at the London Hospital and on 23rd September 1879 he filled a vacancy for assistant surgeon becoming a full surgeon at the young age of 31 in 1884. He was an expert dissector, operated neatly and quickly but was always cautious. He was myopic and generally wore spectacles, but whilst operating, especially in the days of carbolic spray, he removed his glasses and operated with his head close to the wound.
In 1881, he was appointed Erasmus Wilson Professor at the College of Surgeons and lectured On the Scrofulous Affections of the Lymph Glands. In 1882, he published his first book Scrofula and its Gland Diseases. In 1883, he was awarded the Jacksonian Prize for his dissertation entitled The pathology, Diagnosis and Treatment of Obstruction of the Intestine in its Various Forms in the Abdominal Cavity. Treves published his most widely known book in 1884, Surgical Applied Anatomy. To earn a living whilst he built up a consulting practice he became a Demonstrator of Practical Anatomy in the medical school attached to the London Hospital (1881-1884), then Lecturer in Anatomy (1884-1893), Teacher of Operative Surgery (1893-1894) and Lecturer on Surgery (1893-1897). His reputation as a demonstrator soon spread outside the Hospital and his entry in the Dictionary of National Biography states "his clear, incisive style, his power of description, his racy humour. and the applicability of his teaching brought crowds of students to his daily demonstrations." He steadily built up a reputation as a leading surgeon and his consulting room at 6 Wimpole Street became one of the best known in England.
Meanwhile 'appendicitis' surgery gave Treves an enormous development of his private practice. He became the most successful of the London surgeons, receiving more often than others the 100-guinea fee, then the upper limit. Private patients were so plentiful that in 1898, at the age of 45, he resigned the post of surgeon at the London Hospital. In his paper, Relapsing Typhilitis treated by Operation, Treves described how he had operated for the first time on a patient with appendicitis. He had cut down on the appendix kinked by omental adhesions, divided the adhesions and straightened it out. The inflamed appendix was not removed. The patient recovered and remained symptom free. Treves developed his pathology of typhilitis, perityphilitis and paratyphilitis and in chronic cases advocated operating on patients between attacks. In acute cases he advocated delaying surgery until the 5th day of the attack when peritoneal suppuration would have become circumscribed. Unfortunately, Treves' youngest daughter Hetty Marion Treves (1882-1900) died from perforated appendicitis.
---
Marriage (1877) to
Anne Elizabeth Mason (1855-1944)
with background to the Mason Family


Frederick Treves was married on Thursday 8th Feb 1877 at Holy Trinity Church Sydenham in Kent by the Rev. Henry Stevens to Ann Elizabeth Mason (1855-?) the youngest daughter of Alfred Samuel Mason (1823- 1877) who was from Frederick's home town of Dorchester.
The Mason Family of Dorchester: Her father had been born about 1823 in Hackney Middlesex but came to Dorchester around 1850 with his wife Eleanor [Elinor] (1818-aft 1891) a native of Kingston in Surrey who was the daughter of Captain Lewis Webner of the 76th Regiment of Foot. Alfred was still only 28 years old and looking to establish himself in trade in the town so he entered into a partnership with Sarah Edridge the widow of Charles Eldridge who had died in 1846 leaving her in charge of his brewery business in Durngate Street. They were soon trading under the name of "Eldridge Mason and Co" with Alfred living in High East Street but dealing with the financial side of the business whilst Sarah continued to use her extensive experience in the brewery trade to expand their trade. Sarah died at the age of 57 being buried at All Saints Churchyard on 02 Dec 1856, and in her Will she left two thirds of her estate to her daughter Emily, the balance remaining with Arthur. The Will was contested by her step sister and her husband but they lost the case and Alfred then entered into a partnership with Emily's husband John Tizard. [Link to more information about Sarah Eldridge and the history of the Eldridge Pope Brewery].

Alfred and Eleanor had 4 children born in Dorchester

(1) Samuel George Mason born 2nd qtr 1851 - alive aged 19 in Dorchester in 1871
(2) Rachel Mary Mason (1852-1930) born 4th qtr 1852 she remained a spinster and was living with her widowed mother Elinor at 143 Sunderland Road Sydenham in Kent in 1891 but had moved to 53 Sydenham Park by 1901. She died at 32 Foxgrove Road Beckingham in Kent on 13th Nov 1930 leaving as estate of £6451.8s.2d.
(3) Anne Elizabeth Mason (1855-1944) born 16th Dec 1854 - Died 10th jan 1944 - as stated above married Frederick Treves in 1877.
(4) Charles Edward Mason born 3rd qtr 1858 who emigrated to the United States in 1881, married , had a daughter they called Elinor after his mother who was born in Tennessee circa 1892. The family lived for many years in Los Angeles Pasadena.


By April 1861 the family is actually living in Durngate Street with her father being described as a brewer, Malster, Wine and Spirit Merchant employing 4 clerks and 20 men. By 1865 her father is listed in Harrods Street directory under the section reserved for Gentry and recorded as a Counsellor of Dorchester but by the time of the 1871 Census he has retired and the family are now living at 5 South Terrace in South street. Anne now aged 16 is still with her siblings but they soon left Dorchester. Anne and her sister Rachel are next located in Sussex when they undergo an adult baptism together at St Peters Church in Brighton on 9th October 1873 but the family moved again to live at Kingston Villa Sydenham Park Kent where Alfred died on 15th Sep 1877 leaving an estate of just under £25,000 under the administration of his widow and executors. After his death Eleanor and his daughter rachel moved to "Leaside" Sunderland Road Forest Hill in Kent to live where Eleanor died on 10th Jan 1898 leaving her estate of £3,945. 8s.11d
Children from the Marriage
Frederick and Elizabeth had 2 children:- (1) Enid Margery Treves (1878-1936) who was born at Kingston Villa, Sydenham Park Kent on 4th January and baptised at Holy Trinity church Sydenham 10th Feb 1878. She married at All Souls Church Langham Place London on 3rd July 1902 to Lieutenant Colonel Charles Delme-Radcliffe. She died on 31st Oct 1936 at the age of 58 in Marylebone in London. (2) Hetty Marion Treves (1882-1900) born at 18 Gordon Square London on Friday 10th March and Bapt at St Pancras London 14th May 1882. She died 31st May 1900 at the age of 18 from a perforated appendicitis.
---
Joseph Carey Merrick (1862-1890) - The Elephant Man
Patient of Frederick Treves (1884-1890)
Summary taken from Wikipedia - Link to full article


Joseph Carey Merrick, sometimes incorrectly referred to as John Merrick, was an English man with severe deformities who was exhibited as a human curiosity named the Elephant Man. He became well known in London society after he went to live at the London Hospital. Merrick was born in Leicester, and began to develop abnormally during the first few years of his life. His skin appeared thick and lumpy, he developed an enlargement of his lips, and a bony lump grew on his forehead. One of his arms and both feet became enlarged and at some point during his childhood he fell and damaged his hip, resulting in permanent lameness. When he was 10, his mother died and his father soon remarried. Merrick left school at 13, and had difficulty finding employment. Rejected by his father and stepmother, he left home. In late 1879, aged 17, Merrick entered the Leicester Union Workhouse.
In 1884, after four years in the workhouse, Merrick contacted a showman named Sam Torr and proposed that Torr should exhibit him. Torr agreed, and arranged for a group of men to manage Merrick, whom they named the Elephant Man. After touring the East Midlands, Merrick traveled to London to be exhibited in a penny gaff shop on Whitechapel Road which was rented by showman Tom Norman. Norman's shop, directly across the street from the London Hospital, was visited by a surgeon named Frederick Treves, who invited Merrick to be examined and photographed.
Soon after Merrick's visits to the hospital, Tom Norman's shop was closed by the police and Merrick's managers sent him to tour in Europe. In Belgium, Merrick was robbed by his road manager and abandoned in Brussels. He eventually made his way back to London; unable to communicate, he was found by the police to have Frederick Treves' card on him. Treves came and took Merrick back to the London Hospital. Although his condition was incurable, Merrick was allowed to stay at the hospital for the remainder of his life. Treves visited him daily and the pair developed quite a close friendship. Merrick also received visits from the wealthy ladies and gentlemen of London society, including Alexandra, Princess of Wales. In 1980 his life was portrayed in film by John Hurt with the part of Treves being admirably played by Sir John Hopkins .
---
The Boer War (1899-1900)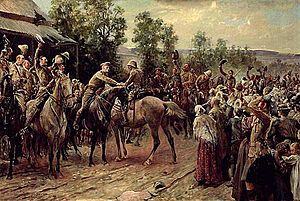 In October 1899 on the outbreak of war Treves volunteered to serve as as consulting surgeon and a month later he sailed from Southampton taking with him two nursing sisters from the London Hospital.
Frederick Treves and his staff were sponsored by the Duchess of Bedford and the group was officially independent of the RAMC, but he spent the next 6 months in charge of number 4 field hospital moving to keep close to the harrowing campaigns which resulted in the Relief of Ladysmith (mentioned in dispatches). Like many others he was awarded the Queens medal with three clasps. His book "The Tale of a Field Hospital was published within a few months of his return. It gives a striking picture of the medical aspects of the war, the more vivid and moving because of the unpretentious presentation. The text is illustrated by evocative photographs taken by treves of ambulance wagons and trains, battlefields and columns of soldiers, against expanses of South African Veld and wide skies.
After his return in July 1900, when Treves was portrayed by Spy in Vanity Fair, his appearance and expression portrayed no personal sense of disillusionment. He was appointed surgeon-extraordinary to Queen Victoria and on 29th Nov 1900 a Companion of Bath (C.B.). Queen Victoria died on 22nd jan 1900 when he was made Serjeant Surgeon-in-Ordinaryto His majesty King Edward VII. In recognition of his service on 28th May 1901 Edward VII made him Knight Commander of the Royal Victorian Order. (K.C.V.O.) .
---
Saving the life to the King
Frederick Treves treated many well to do patients but one event in particular was to change his life. As already indicated above he was sergeant surgeon to the King Edward VII and in June 1902 his national fame suddenly became world wide when, just days in advance of the his planned coronation, King Edward VII fell gravely ill with acute appendicitis.
Amidst much panic and confusion, as all the crowned heads of Europe were about to travel, the ceremony was cancelled. Treves stayed admirably calm under the most extreme pressure and performed an appendicectomy and drainage of an appendix abscess and saved the monarch's life, enabling the coronation to proceed two months later. This secured him a lasting celebrity status which made him the very toast of a nation. After the operation Treves joined the King on the royal yacht. In gratitude for literally saving his life Edward made him a Baronet.
In 1904 Treves retired from surgery to concentrate on travel and writing books, medical papers and letters to the Times. King Edward lent him the Thatched House Cottage in Richmond Park. That year he undertook a visit to Japan where he was presented to the Emperor, an event, which inspired one of his greatest works ' The Other Side of the lantern'. On another occasion he also met the President of America and in the summer of the following year (1905) he returned to Dorchester to live and made a phenomenal blanket cycle tour of every settlement in Dorset, which became the raw material for his 'Highways and Byways of Dorset (1906). The retired doctor wrote vividly of his impressions of what he saw in the countries he visited, and in one series of letters to the Times expressed his reservations about the nature of the restoration work being carried out on Puddletown Church near Dorchester.
He developed heart failure and 1920 went to live in the south of France and on Lake Geneva at Evian. In 1922 he survived an episode of severe pneumonia, but the following year he developed acute cholecystitis and peritonitis. He died at Clinique de Rosemont in Lausanne, on 7th December 1923 after a few days illness. He was cremated, and his ashes were brought back to Dorchester. His funeral service took place at St Peter's church, Dorchester on 2 January 1924 and the King and Queen were represented by the Physician-in-Ordinary, Lord Dawson. His lifelong friend Thomas Hardy attended and chose the hymns. Hardy also wrote a poem for the occasion which was published in The Times. His ashes were interred in Dorchester Cemetery. He left an estate valued at £102,339
Dame Anne Elizabeth TREVES died on 10th Jan 1944 and was buried with her husband - leaving an estate of £216,615. Pictures of the family grave.
Genealogical Notes:-

---
(1). Sources of Information:-
British Newspapers online (These still need to be properly researched)
Burial Register Civic Cemetery Dorchester;
Census returns for Dorchester; Hurstpierpoint in Sussex; Fulham in London; Watton in Hertfordshire
Church of Latter Day Saints (CLDS) International Genealogical Index; Marriages Devizes Wiltshire CLDS GS Film number: 1279389 ; Rachel &Anne Elizabeth mason Bap batch C147996 GS Film 1067136.
Crockfords Directories eg 1885;
Derbyshire's Historic Celebrities Article by Peter Seddon as published in the Derbyshire Life and Countryside magazine in June 2002
Directories for Dorchester inc Pigots 1830 and 1844, Slaters 1851, and Harrods 1865;
Dorset Ancestrors - Article 20th Jan 2010. Contained additional info on a few other notable medical cases he was involved in.
Find a Grave memorial Dr William Knight Treves #46324661.
GRO Birth Marriage and Death Indexes;
India Madras Marriages FHL Film Number: Jane Treves 521868;
India Office Ecclesiastical Returns-Bengal Presidency re birth of Julia Catherine Goad FHL Film 498984
Journal of the Royal Society of Medicine Volume 85 Sep 1992 by D.D.Gibbs of the Royal London Hospital
London Gazette 8 Feb and 16th April 1901
Medical Times and Gazette Volume II for 1876 announced marriage of Edward Treves MRCS.
National Burial Index;
National Probate Register; William Treves Junior, Frederick Treves and dame Anne Elizabeth Treves
Oxford Dictionary of National Biography
Parish Birth Marriage and Burial, Registers for All Saints, Holy Trinity and St Peters Churches in Dorchester; St Andrews Melcombe Horsey; Paddington
His book "The Tale of a Field Hospital
Wills: William TREVES (1773-1829) Ref. DHC Ad/Dt/W/1830 event record 57 Also DHC D/LRL/1/446, Ann Mathews DHC Ad/Dt/W/1841 event record 16 & Ad/Dt/W/1841 E/R 20: Sarah Eldridge PCC 1856 Prob 11/2244
FHL Film Number: 498984; Bond Ref MS10091/247 Paddington Marriages Wm K Treves 1870 FHL Film 804226.;
Visitation of England and WalesVolume 13- Treves viewable on ancestry.com
(2) 'Highways and Byways in Dorset' by Sir Frederick Treves e.g. page 356