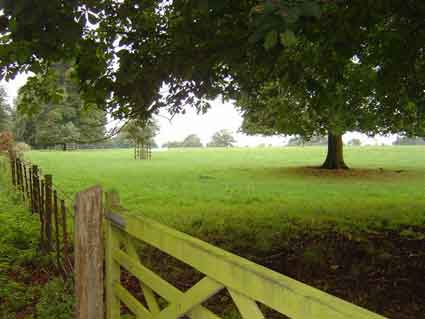 Parkland near Moor Crichel © Dorinda Miles 2011
Moor Crichel is a village and civil parish on Cranborne Chase near the River Wim formerly in the Hundred of Badbury, Union of Wimborne and Cranborne. About 6 miles South West of Cranborne, 6 miles North West of Wimborne and 5 miles East of Blandford Forum. It lies in a wooded vale, some parts of which are marshy due to the river that flows by. Recorded as Mor Kerchel in 212 and Moore Crechill in 1541. Moor is Old English for Marshy Ground, Crichel is of Celtic origin {crug}Mound and Old English {hyll} added at an early date. Now known as Crichel Down, Little Crichel nearby was joined with Moor Crichel when the parsonage was demolished.

The Manor was owned by the Uvedales, Sheriffs of Dorset in the16th C and it passed to the Sturt family through marriage. It has a mansion set in 400 acres of parkland, with a crescent-shaped lake covering 50 acres. The original Tudor house was largely destroyed in an accidental fire in 1742. John Bastard of Blandford and Francis Cartwright rebuilt Crichel for Sir William Napier after the fire, and when Humphrey Sturt inherited the estate in 1765 he extensively remodelled the house. The remodelling involved moving the village a mile to the south and many of the villagers were moved to Witchampton. This was so that the parkland could be landscaped and the original site of Moor Crichel is now submerged beneath the lake
The Church of St Mary, South East of Crichel House, replaced an older building. It was re-built in Elaborate Italian Style in the 19th C of Stone North of the Parish. It contains a chancel and small south aisle, an embattled tower and three bells, a portico and bell turret at the west end, vestry and transept north aisle. There is elegant tracery on the arches and a rose window of stained glass. Arches are in polished Purbeck Marble. An altar tomb dated 1581 for the Cifrewast family is also here. The church is in the grounds of Crichel House and not accessible to the public.

In 1861 the population was 342 and the parish covered 1,705 acres. In the 2011 census the population of Moor Crichel parish combined with the neighbouring parish of Long Crichel was 246. Manswood is a hamlet within the civl parish, notable for a terrace of twelve thatched cottages.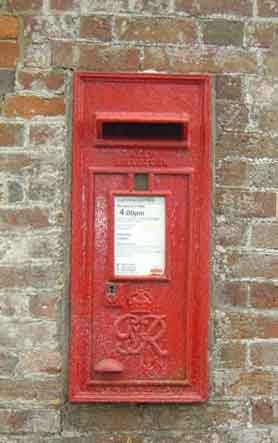 The traditional red post box in Moor Crichel
The new Online Parish Clerk (OPC) for Moor Crichel is Bel Hounstout
Please place the words 'OPC Moor Crichel' as your subject for e-mails (click on Bel's name above to generate a pre-addressed email)

---
Census
1841
1861
Parish Registers
Baptisms 1620-1792 [Kim Parker]
Marriages 1620-1837 [Kim Parker]
Burials 1620-1792 [Kim Parker]
Bishops Transcripts
Baptisms 1792-1811 [Anne Preston]
Marriages 1731-1839 [Jon Baker]
Burials 1792-1811 [Anne Preston]
Rectors
Poll Books
Militia Rolls
Maps
The 1891 Ordnance Survey maps of the parish can be seen at the old-maps site, just enter 'Moor Crichel' under place search.

For modern location maps visit:-

www.multimap.com
For a 1920s map click on the thumbnail opposite
Records held at the Dorset History Centre

Registers
Christenings 1664-1945. Marriages 1664-1958. Burials 1664-1888. Banns 1824-1947