Photograph by William Rogers circa 1878/1880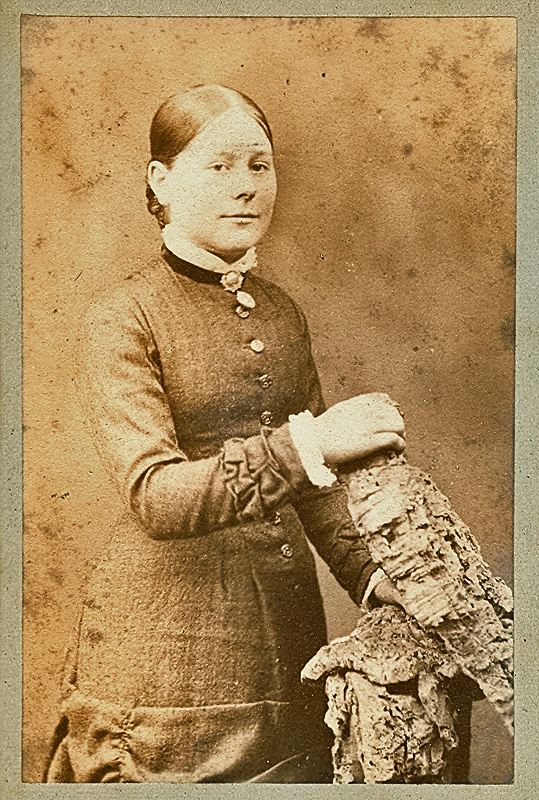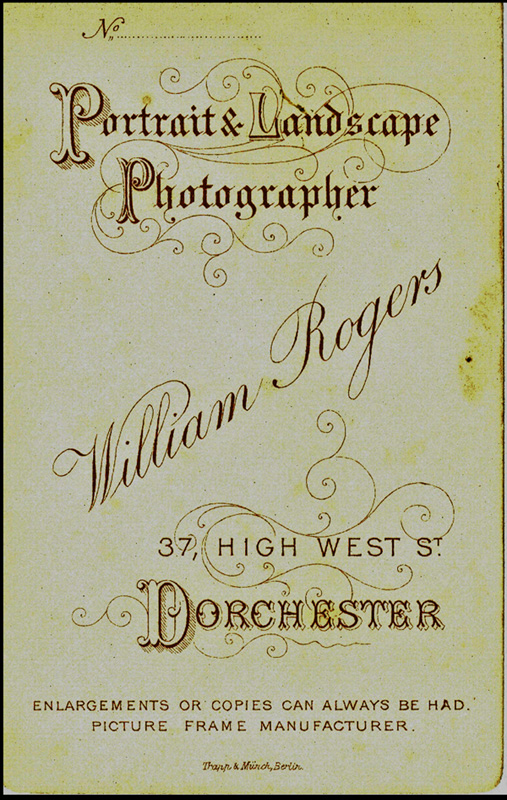 © Copyright Paul Woodrow of Kingston, Ontario, Canada
We are not sure who the lady in the photograph is but it originates from a Family Album inherited by Paul Woodrow in Canada and his ancestors mainly came from the Puddletown area near Dorchester. His best guess is that she may be one of the four sisters of his great grandfather Henry Woodrow who was lucky enough to have her picture taken by William Rogers. If anybody can identify the lady please make contact via the email address given on the home page. I would very much like to add other photographs taken by William Rogers if anyone has some buried in their family album and can send me an image.

---
William Ricketts Rogers (1856- 1944)


William Ricketts ROGERS to give him his full name was baptised at Holy Trinity church Dorchester on 21st September 1856. He was the 8th child(2) of John ROGERS a Master Cabinet maker and native of Dorchester who learnt his trade from his father Thomas ROGERS a well established carpenter in the town. His father John had married Frances RICKETTS at St Michael's church Stinsford, probably remembered by most people as the burial place of the author of the Mayor of Casterbridge, Thomas Hardy. They married at Stinsford on 3rd March 1842 and I notice one of the witnesses to the marriage was a Sarah Hardy who may well have been related to the famous author.
After the death of his grandfather Thomas in 1841 his father lived with his surviving siblings at Bell Lane in All Saints parish but after marriage to Frances in 1842 moved into Holy Trinity living at Hospital Lane. By 1851 he was a well established furniture broker and master cabinet maker employing a journeyman carpenter by the name of Andrew Lush and 3 boys. The following year he moved his business again to Back West Street but about 1853/4 the opportunity arose for him to move into 37 High West street which he had done prior to Oct 1855. This was to prove an important move as next door at number 38 was the renowned Photographer John Pouncy who himself was successful enough to be employing 3 men in his photographic business. John quickly added picture frame making to his business and his son William Ricketts Rogers who arrived in 1856 grew up next door to John Pouncy from whom he developed an interest in photography. John & Frances eldest son Thomas also became a master cabinet maker having started his own business by the time he married Dorothy Edith WILLIS early in 1866. Their father John ROGERS died on 23rd March 1867 being buried in the Civic Cemetery on 27th and leaving a Will with personal effects of under £300.
William's father John died when he was still a scholar of 11 years of age. His mother Frances carried on the business as a Furniture Broker with his 18 year old brother Walter George ROGERS doing the joinery whilst his eldest sister Frances then 23 years old and originally a dressmaker turned her hand to selling groceries. By 1871 William was 15 and employed locally as a Clerk, I suspect in a solicitors office. In 1875 his mother is still acting as a Furniture Broker whilst next door Walter Pouncy, now 60 years old, has taken under his wing his brother Walter as he is listed in the Post Office Directory for that year as a photographer operating out of 38 High West street. Frances continued to run the business from number 37 until her death at Dorchester on 30th October 1880(1). It is really difficult to know precisely when William started trading from 37 High West Street as a photographer in his own right. I suspect that both he and his brother were working for a time under the guidance of Walter Pouncy with his older brother by 1875 being allowed to use Pouncy's address in the street directory. By the time of his marriage in 1878 William was describing his profession as a photographer so I suspect that they settled with his mother at number 37 and that he was running his business from there no later than February 1878. On the 11th Nov 1878 his elder sister Julia (b1847) married Richard Rogers STAYNER a Solicitors managing clerk and when their mother Frances passed away in 1880 Richard Stayner became the head of the household and William moved out to 45 High West street where he operated as a dealer in China for a time. The above photograph therefore was probably taken between 1878 and 1880.
Marriage & Children
William Ricketts ROGERS having had banns of marriage read at Holy Trinity Church in Dorchester on the 27th January, 3rd and 10th February 1878 he married Georgina Matilda LEGG the daughter of Henry LEGG a Staff Sergeant from Winterbourne St Martin. They married in her local parish church of St Martin on 11th February 1878. As indicated above they initially lived at 37 High West Street and produced 10 children that I know of:- .
(1) William Lawrence ROGERS baptised at Holy Trinity church Dorchester but by The Hon. Aubrey Richard SPRING RICE MA (1822-1897) an Officiating Minister on 20th Sep 1878. Their abode was simply given as Dorchester, and the occupation of his father as that of Photographer.
(2) Frances Louise ROGERS baptised by Rev Henry Jones Rector at All Saints church Dorchester on 5th March 1880, abode given as All Saints; fathers occupation Photographer
(3) Clement John ROGERS born 1st qtr 1881, became a Solicitors Clerk by 1901
(4) Harry Legg ROGERS born 12th July 1882 Dorchester Dorset. He was a grocers assistant in 1901 but emigrated to Canada in 1906 and married Christina Cypress Campbell. Died 7th June 1975 Winnipeg Canada



Harry Legg Rogers &
Christina Cypress Campbell



(5) Joseph Frederick ROGERS born 3rd qtr 1883; a telegraph learner in 1901, by 1911 he was a 28 year old Post Office Clerk and had married in 1909 to Hilda Elizabeth BUDDEN of the same age, and produced a daughter Mary aged 1, living at Mayville Culliford Road in Dorchester.
(6) Frederick Walter EG ROGERS born 2nd qtr 1885; a telegraph messenger in 1901
(7) Alexander Arthur ROGERS born 3rd qtr 1886; staying with his grandfather Henry Legg in 1901, 24 year old unmarried motor clerk living with parents in 1911.
(8) Irene Florence ROGERS born 2nd qtr 1888; 22 year old unmarried antique shop assistant with parents in 1911
(9) Adelaide Bessie ROGERS born 2nd qtr 1891; a 20 year old unmarried cashier for a butcher with parents in 1911
(10) Rolph Ricketts ROGERS 3rd qtr 1897; a 14 year old scholar with parents in 1911.
Clearly Photography was not sufficient to support his growing family and he appears to have embraced a number of trades and moved frequently around Dorchester. In all probability he maintained a shop and sold a variety of different merchandise and the different descriptions reflect what was prominent or what he wanted to promote at any given time:-
The 1881 Census shows him resident at 45 High East street operating as a China dealer.
The 1889 Kelly's Trade directory shows him to be a grocer a trade first undertaken by his eldest sister Frances
The 1891 Census he is a General Dealer resident at 22 High West street
The 1895 Kelly's Trade Directory shows him as a Grocer from 22 High West Street
The 1901 Census he is a picture frame manufacturer at 22 High West street
The 1911 Census he is at 35 Trinity Street a Picture Frame Maker
The 1915 Kelly's directory he is still listed as a picture frame manufacturer but resident at 35 Trinity Street
Georgina appears to have survived until 1933 when she was 77 and William Ricketts Rogers into his 88th year being buried in the district of Weymouth in 1944
---
Genealogical Notes:-
(1). Frances ROGERS Will was proved at Blandford in 1880
(2). Known children of John ROGERS and Frances RICKETTS were:-
(1) Thomas ROGERS was born in third quarter of 1842 ( GRO Ref 8/44) and baptised at St Peters Church in Dorchester on 2nd Oct 1842. He followed his fathers trade establishing himself as a master cabinet maker and married Dorothy Edith WILLIS (possibly in St Peters Church Dorchester see GRO marriage 1st qtr 1866. Lived initially at the Green Dragon in All Saints where he was also a licenced victualler in 1871; then moved pre 1881 to 25 High West Street Dorchester where he remained until after 1901. They had several children that I know of:- Edith Maude; Thomas Herbert, Amy bap HT 10 Oct 1869; and Lillian May bap HT 18th Dec 1872
(2) Frances ROGERS bap Holy Trinity Church Dorchester 19th May 1844; Initially trained as a dressmaker and started selling groceries from their house in the High Street helping to support her mother when her father John died in 1867 and was still there unmarried in 1871.
(3) John ROGERS born circa 1845. Unable to locate a birth or baptism? Present in the 1851 Census (age 5) & 1861 Census (age 15) living with parents. A compositor by trade whose banns of marriage were read at Holy Trinity 15th; 22nd and 29th Nov 1868 and he married (age given as 23) to Eliza Jane PITHEAD aged 19 on 30th Nov 1868 at St Georges church Fordington. In 1871 Census living at Bell Street All Saints a licenced victualler with wife & daughter Alice Emily Rogers
(4) Julia ROGERS bap Holy Trinity Dorchester 26th Dec 1846; She married Richard Rogers STAYNER 11th Nov 1878 a Solicitors managing clerk and when their mother Frances passed away in 1880 Richard Stayner took over running the furniture business. He also traded from the same address as an auditor and acted as an agent for the Norwich Union Fire Insurance Co until his death in the 4th quarter of 1891. The business was then sold and operated by Job Cook.
(5) Walter George ROGERS bap Holy Trinity church Dorchester 3rd Jan 1849; As his elder brother Thomas had already married and had his own business when his father died in 1867 he took over the carpentry and assisted his mother and elder sister Julia in running the furniture business. When his mother died in 1880 Julia and her husband took on the family business as Walter was already involved with Ellen the daughter of a green grocer Levi PAUL whom he married at Holy Trinity church Dorchester on 1st Feb 1881. They lived with his wife's widowed mother running their grocery business at 10 High East Street which also dealt in flowers as he is listed as a florist in 1891. By 1901 he and Ellen are running the grocery business and they have two children, Mary F Rogers and Harry Rogers.
(6) Arthur Henry ROGERS born 3rd qtr 1850 (GRO ref 8/54) not located a baptism. He also followed his fathers trade to become a cabinet maker, but moved to lodgings at Pokesdown in Hampshire to ply his trade. He met there Jane FRAMPTON whom he married in the 1st qtr of 1872 and they had the following children (1) Arthur John born at Pokesdown 1st qtr 1874 (2b/629) before they moved to live at Palmerston Road Boscombe in Christchurch Hampshire where the next 4 children were born:- (2) William 3rd qtr 1878 (2b/606) (3) Sydney 4th qtr 1880 (2b/639) (4) Frederick 1st qtr 1883 (2b/690) (5) Harold 3rd qtr 1885 (2b/662) ; The last 3 children were born at Eastleigh South Stoneham Hampshire at 27 Market Street :- (6) Elsie 1st qtr 1888 (2c/60) (7) May 1st qtr 1890 (2c/51) (8) Walter c 1893
(7) George Robert ROGERS bap Holy Trinity 31 Jan 1855 and buried there aged 7 months 23rd Oct 1855
(8) William Ricketts ROGERS bap HT 21st Sep 1856 (See above biography)
(9) George ROGERS born 4th quarter 1858 (GRO Ref 5a 313) and correctly recorded in the 1861 census as George Rogers aged 2, but for some inexplicable reason his baptism is recorded as that of John Robert Rogers at Holy Trinity church on 26th Dec 1858?
(10) Charles ROGERS bap HT 23rd Dec 1860. He moved to Upper Holloway in London where he worked as a printer compositor but returned to marry Maria the daughter of Robert MOORS a house proprietor in her home parish of St Georges church Fordington on 8th Nov 1880. They lived in St Marys Islington Finsbury and had Children:- (1) Florence born Dorchester (2) Ashley C born Battersea (3) Albert E born Battersea