Dr. John GORDON (1728-1774)


My Interest as OPC for Dorchester is purely that John GORDON was buried at St Peters Church in Dorchester on 6 Oct 1774, evidenced by his name appearing in the parish burial register, and on a monumental inscription displayed on a white marble tablet on the north wall of the church. Frustratingly despite extensive research I have not been able to find out why John Gordon was in Dorchester at all. Clearly he was on his way back to Jamaica which may have occasioned him heading for Portsmouth where he had landed in 1773, and we know he had friends at Chichester, but Dorchester is not en-route and the local ports including Weymouth did not trade with the West Indies. They did sail regularly to New England so perhaps he was looking to gain passage south from there. There are no records of his family or his known friends ever being in Dorchester, and being a staunchly Puritan town there is no history of the merchants being involved in the slave trade at all.

From research into his family most family members seem unaware that he died at Dorchester, so I thought it might be helpful to outline my understanding of his life and background in the hope that more information may come to light. I am grateful for earlier researchers efforts, in particular Anne M Powers the author of "A Parcel of Ribbons" who writes about the life of Robert Cooper LEE a respected Jamaican attorney who over many years became a close friend of John and his brother George GORDON and guardian of John's son Robert Home GORDON.
---
Antecedents in Scotland: (1&2)

Sir John GORDON (d.1649) 1st Baronet of Embo in the county of Sutherland in Scotland.



Arms: Az. three boars' heads erased or. Crest - A Boar's head, as in the arms.
Motto - Forward without fear(3).



(1) His great grandfather was - Sir John GORDON (d.1649) 1st Baronet of Embo in the county of Sutherland in Scotland. He had married to Margaret (1&6) the daughter of the Hon. Robert LESLIE of Findrassie, co. Moray, by Margaret the daughter of Alexander Dunbar of Grange, Dean of Moray and one of the Lords of Session. In the book "The Gordons of Sutherland, including the Embo Family" (2) it gives an account of his land transactions as recorded in the "Inverness Register of Sasines" and it makes it clear that he was first called John GORDON of Golspitour citing two very early references, one dated 1595, and the other in 1597. Golspitour is better known today as Golspie Tower (4) on the east coast of Sutherland just above the village of Embo. The book recounts some of his many exploits including how he was wounded. Despite a number of on-going feuds which took years to resolve, he became a man of some influence and was appointed justice of the peace for Sutherland in 1623. He succeeded his father, John GORDON of Embo, when he died on 23 Nov 1628(1/2) and was sufficiently wealthy to be created 1st Baronet of Embo on June 18th 1631, the patent being sealed 11 days later. He also received a grant of 16,000 acres on part of Anticosti Island in Nova Scotia entitled the Barony of New Embo (5). From 1634 he encountered difficulties following the purchase of Achinnes which meant he was in debt by the time he died in 1649.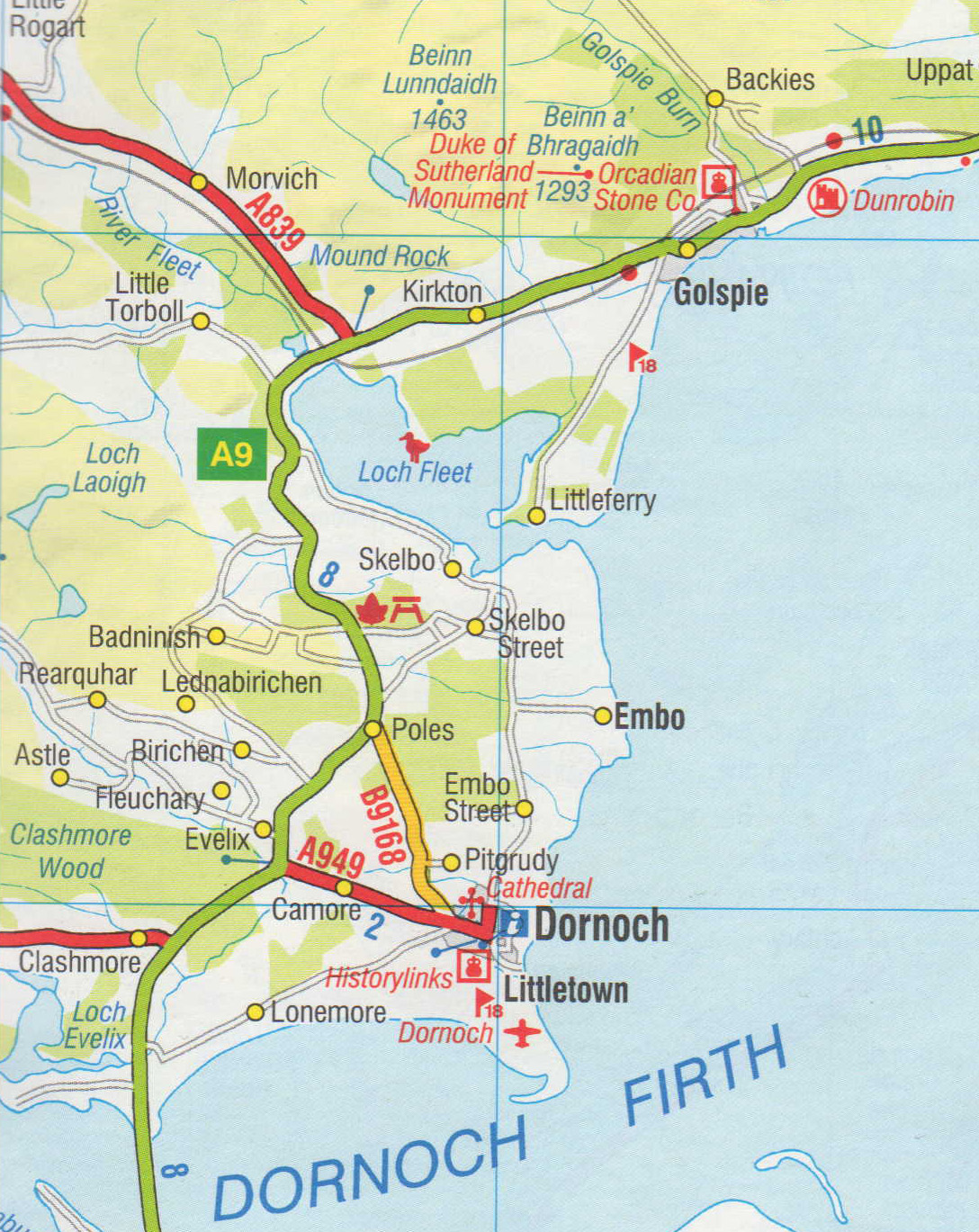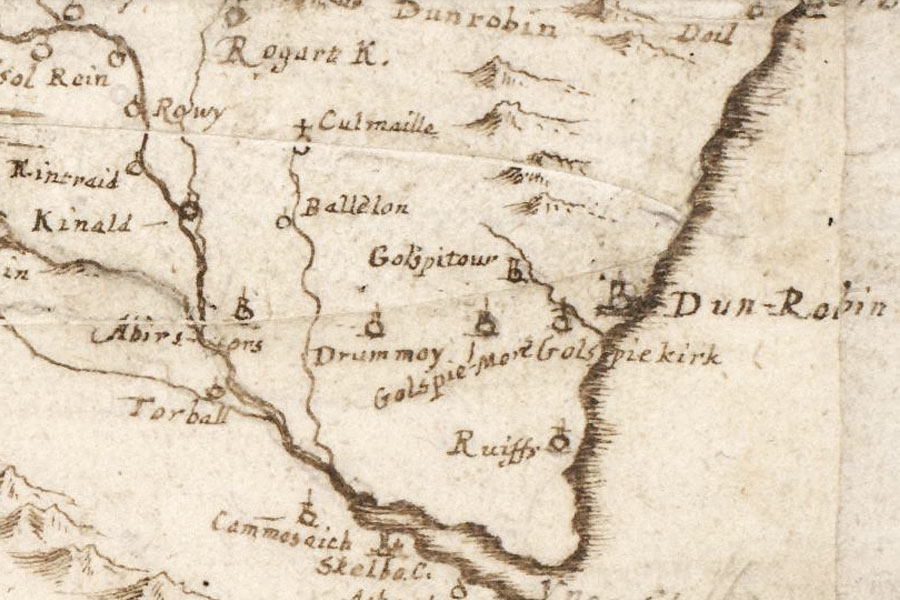 Modern day map showing location of Embo in the Highlands of Scotland & county of Sutherland
Map dated 1654 showing location of Golspitour (now Golspie Tower)

Sir John GORDON left two sons and a daughter:-
1.1. John Gordon - his eldest son appears to have died prior to 1649
1.2. Robert GORDON (d.1697) - became the 2nd Baronet of Embo - see paragraph 2. below.
1.3. Jane Gordon (d. 1656) - married Dr Lamere, a French physician, and died in 1656.
(2) His grandfather was - Sir Robert GORDON (d.1697) 2nd Baronet of Embo
Robert succeeded his father in 1649 and found the estate to be much impoverished, inheriting a debt of £10,862, for which he was adjudged to be imprisoned until the sum was paid. He was nevertheless M.P. of Sutherland, 1649-1650 and again in 1661, being in 1663 excused from attendance as in the Kings service. He married his cousin Jean the daughter of Robert LESLIE of Findrassie by Isabel daughter of Abraham Forbes of Blackford, and appears to have improved viability of the estate. He died on the 16th Oct 1697 (1) when he was succeeded by his eldest son and heir Sir John GORDON (d. 1701) 3rd Baronet of Embo . Their children were:-
2.1. Sir John Gordon (d.1701?) 3rd Baronet of Embo, educated at Marischal college in Aberdeen in 1672 & 6th winner of the archery medal; Captain of Lord Strathnaver's Regiment ; M.P. of Sutherland July 5th 1681, 1682; Mar 5th 1689, 1700; Said to have died May 10 1701 but others contest that he was alive up to 1704? Succeeded by his son John GORDON 4th Baronet - See Family tree page 22 The Gordons of Sutherland (2). The 9th Baronet was Sir Orford GORDON.
2.2. Robert GORDON of Pronsey see paragraph 3. below
2.3. James Gordon
2.4. William Gordon
2.5. George Gordon Captain M.P. for Dornoch March 5 1689 (Sessions 4-7, 910) and died before Dec 21 1692
(3) His father was - Robert GORDON of Pronsey as stated on John's tombstone.
As a second son Robert did not carry the family title of Embo which went to his elder brother's son who became 4th Baronet. I had some difficulty locating Pronsey until I realised search engines were not picking up variations in the name (It is also spelt Pronsie; Pronsy; & Proncy). Pronsey is situated in the parish of Dornoch and consisted of a farm and castle or tower. Link to modern satellite image of the area showing the villages of Dornoch, Embo and Golspie, all on the coast. Pronsey lies just off the A9 between Evelix and Poles with the earthworks of the castle located just behind Pronsey (Proncy) farm. (Note:-allow time for the map below the text to load) In 1525 Pronsey (Pronsy) Castle, which was an ancient medieval stronghold, came into the possession of William Sutherland(7). These lands had previously been held by Hugh Sutherland, son of Angus, with Elizabeth Countess of Sutherland who had married in about 1509 to Adam GORDON as overlords. Adam Gordon was also responsible circa 1515 in building Golspie Farm next to the medieval Golspie tower(4) . (Note:- The link provided goes to images of 2 maps one above the other purporting to show the area in 1654. The lower of the two maps interestingly shows both Golspitour and towards the bottom Pronsie). In 1606 after prolonged dispute the laird of Duffus and the burg of Dornoch agreed the boundaries between the lands of Skelbo and Pronsey (Pronsie) and the burgh. A few miles north of Dornoch lies the little village of Embo.

Marriage and children:- Robert married, about the year 1726, to Isobella (Isabella, Isobel) the daughter of Sir George MUNRO (MUNROE) of Culrain which lies about 20 miles west along Dornoch Firth. After marriage they lived at Golspie farm where their first three children, John, George and Mary Gordon were all born. John was the eldest son and born in 1728 as his age was given as being 46 on his memorial tablet. George his younger brother was probably born the following year and ultimately would be responsible for the erection of the marble tablet dedicated to his brother on the wall in St Peters Church in Dorchester. Mary Gordon was his eldest sister, and both George and Mary are beneficiaries under John Gordon's will. Unfortunately the parish registers for St Andrew's Church at Golspie (which was recorded as the Earl of Sutherland's chapel in the 13th century and became the parish church in 1619) have not survived prior to 1739. By 1732 however the family had already moved to Pronsey where the parish church was Dornoch Cathedral. Parish Registers in Scotland are difficult to locate but the Church of Latter Day Saints in their film 990561 records the baptism of four of his sisters at Dornoch Cathedral, three of which are referred to in his Will. Information about the lives of Robert and Isobella's children is scant and needs to be approached with some caution but I have recorded what I believe to be relevant below in the hope that as more information is made available it can be better substantiated or improved upon:-
3.1. Dr. John GORDON (1728-1774) see Section 4 below

3.2. George GORDON (c1729 -1778) was their second son and died unmarried in Jamaica. He was a beneficiary under his brothers will in 1774 and left as guardian for his only son Robert Home Gordon who was still a minor and at school in England. He filed accounts for Hayfield Pen his deceased brothers farm in St Thomas in the Vale in Jamaica in 1778 so was living then. He was the owner of the Cromwell Plantation in the parish of St Mary and the accounts for the property were filed in 1779 by Gustavas MacFarquhar who recorded the ownership as being "the property of the heirs of George Gordon Esq. deceased". He is reported (2) to have left this property to his brother Dr John and his brother's only son, Robert Home Gordon. He is also said to have made a later will leaving his estate to his sisters, but as this will was unsigned it was invalid, although a lease of some property in Jamaica was drawn up in 1781 (9) on the basis of it being all right, and signed by Robert Home Gordon. I have not so far located either will which presumably would be in Jamaica.

3.3. Mary Gordon (c1731-aft 1774?) , received an annuity of £30 in her brothers will dated 16th Sep 1774. Nothing else known.

3.4. Elizabeth Gordon (1732-aft 1774?) recorded at Dornoch Cathedral as the daughter of Robert Gordon baptised on 18th May 1732. She married George MACKENZIE, factor to Sir H MUNRO. Elizabeth is referred to in John Gordon's will of 1774 and there is an additional legacy of £300 to his nephew Colin MACKENZIE who later became an attorney in Jamaica. He was also a beneficiary under the will of Robert Home Gordon in 1826 receiving £1,000 (transcription section 5 below) as was his brother (Note:- where his brother's name should be in the will is left blank)

3.5. Jean (Jane) Gordon (1738-1795) recorded at Dornoch Cathedral as the daughter of Robert Gordon and Isobella Monro baptised on 6th March 1738. She married on June 18th 1762 to Baillie Robert MURRAY, a merchant in Edinburgh who was a native of Ross-shire. Her husband Robert died in 1792 being buried at Cannongate, Midlothian in Scotland on 4th July that year. Jane died Feb 14th 1795 when her age was given as 51 (57?) and was also buried in the Cannongate Churchyard in Midlothian. (2&7) She is reported to have had 4 children


3.5.1 Robert Murray c1770 - bet 1826 and 1830) Living in Jamaica and a beneficiary under the will of Robert Home GORDON (1765-1826)
3.5.2 Sarah Morgan Murray (c1770-1837) She married at Canongate, Edinburgh, Midlothian, Scotland on 16 Mar 1796 to the Revd. Thomas Kennedy (1770-1828) Minister of the parish of St Madoe's. She is described as Miss Sarah Murray daughter of the late Baillie Robert Murray leather merchant.
3.5.3 George Home Murray (1774-1833) who was baptised at Golspie Sutherland on 19th June 1774(9); he became a Lieutenant Colonel and Brigadier General in charge of the 16th Lancers a Regiment in which he served for over 30 years. Present at the Battle of Waterloo as Captain George Home Murray he took command of the Regiment early in the day when Colonel James HAY was badly wounded. He was a beneficiary under the will of Robert Home GORDON (1765-1826). He died at Canpore East Indies 15th Dec 1833 leaving a will which refers to an interest in estates he inherited from his uncles Dr John and Mr George GORDON.
3.5.4 Mary Murray Baptised 8th Nov 1771 at Canongate, Edinburgh, Midlothian


3.6. Margaret Gordon (1739-1740's) recorded at Dornoch Cathedral as the daughter of Robert Gordon and Isobell Monro baptised on 26th Aug 1739, who presumably died in infancy as only three of his sisters are referred to in Burke's Peerage and she is missing from his will, and I have not located any burials for the parish

3.7. Charlotte Gordon (1740-nk?) recorded at Dornoch Cathedral as the daughter of Robert Gordon and Isobell Monro baptised on 18th Sep 1740. Received an annuity of £30 in her brothers will dated 16th Sep 1774.

3.8. Catherine Gordon (nk-aft 1778) said (2) "to have married into the MUNRO Family of Dalmore but her husband died prior to 1778. They had a daughter who married Alexander Smith of Kinmylies, Inverness (a native of Lothian)". I have not been able to substantiate this statement but John Gordon's will in 1774 leaves £500 to his nephew John MUNRO for his education, to be employed as his brother George thinks fit. A private letter dated 4th October 1779 from Robert Cooper Lee to his wife Priscilla who had by then returned from Jamaica and was living in London states " Poor young Munro - Gordon's cousin is dead in Jamaica".
---
Dr. John GORDON (1728-1774)
Attorney, Plantation and slave owner of Jamaica


(4) Dr. John GORDON (1728-1774) was born at Golspie Farm in the county of Sutherland in Scotland, and in all probability baptised at St Andrews church in the year 1728. Before he was four years old however, he and his family had moved to nearby Pronsey to live and this is where he and his younger brother George grew up with their siblings. As young men from a reasonably well to do family he and his brother would have received a worthwhile education. They went onto University, probably around the age of 16 or 17, and studied law, possibly at Aberdeen or Edinburgh, but I have not so far been able to ascertain when or where. Following University he appears to have started to practice law in his local community as there is mention(2) of his sitting at a session of the court at Dornoch in 1750. To further his career however he needed to gain a much wider experience of the law and that was not likely to happen at Dornoch. In 1751 or 1752 he headed for Jamaica which already had a large community of Scottish immigrants established on the Island and where fortunes were there to be made by those brave enough to endure the risky voyage and unhealthy climate.

4.1 JAMAICA: By the 1750's many of the original plantation owners had died leaving their estates to their next of kin in England. Many had no desire to come to Jamaica and would employ local lawyers to manage their estates. The typical fee for the administration of plantations of absentee landlords was 5% of the gross value of the produce of plantations under their care. As many of these estates produced huge profits it was relatively easy to accumulate wealth and most lawyers quickly became property owners themselves. Many records from this period have not survived but it is clear that he quickly established himself on the island and became an attorney for John ELLIS and, jointly with another attorney named William Needham, took over administration of the Greencastle & Newry Plantations in the parish of St Mary's.
GREEN CASTLE PLANTATION - It can be found on the 1760-1761 map of Jamaica just inland from Jack's Bay on the north coast of the island. It is described on the map as Upper and Lower Green Castle and its southern border joins Orange Hill. It produced sugar, rum, and molasses. A history of Greencastle Plantation has also been written by Paul Larsen but makes no mention of John Gordon. Greencastle was owned by the ELLIS Family and when George ELLIS died in 1738 it was administered by his widow, and executrix of his will, Mrs Ann ELLIS nee Beckford. Ann died in 1746 (10)and as residuary legatee of her husbands will she explained that her husband had left 'Greencastle' to her son George Ellis; 'Newry' to their son John Ellis and 'Orange Hill' to their son William Beckford Ellis and that she had been charged with arbitrating any dispute over the boundaries of the three contiguous estates, a duty she passed to her executors. Her son George Ellis married Charlotte LONG the sister of the historian Edward LONG about which more later. (11) George died in 1753 leaving his third of their fathers estate to his younger brother John ELLIS. John Ellis's Newry Plantation is referred to on the map as Lower Greencastle and the original Green Castle estate as Upper Green Castle. John also inherited other property so employed Dr. John GORDON and William NEEDHAM two of his attorneys to administer both estates and a farm called Fort George Penn. (12)
4.2 Having secured such a lucrative appointment John Gordon used his position at Greencastle to establish his own business and we know he was already well established as an indigo plantation owner by 1756:-
Background: An influential character in Jamaica at that time was Dr. Rose FULLER (1708-1777) who had come to Jamaica as a young man to manage the family estates there. In 1735 he was elected to the assembly and in 1737 called to the council. About the same time he was made judge of the supreme court. Disputes with Governor William Trelawny led in 1740 to his removal from the council and in 1746 from the bench, and in 1749 he was back in England. He returned to Jamaica in 1752 when Charles Knowles succeeded Trelawney, and was appointed chief Justice. This was about the time John Gordon first arrived in Jamaica and he would have met and known such an important plantation owner and a key player in the island's politics. Rose Fuller's biography is on the History Of Parliament website to which I have provided a link. On the death of his elder brother, Rose Fuller returned to England, landing at Portsmouth on 18th April 1755 and in addition to being the biggest planter in Jamaica became a wealthy iron-master in Sussex. Determined to enter Parliament he represented New Romney 1756-1761; Maidstone 1761-1768 and Rye 1768-1777. Ideally placed, plantation owners back in Jamaica sought his help in raising issues important to them and representing their views in Parliament. Many of his Family papers have survived and are held at East Sussex Record Office. On 15th June 1756 John GORDON wrote to Rose Fuller seeking " his interest in the house of commons on behalf of his fellow indigo-planters to continue the bounty". [Note:- Trying to get a copy]
Indigo: When the British captured Jamaica in 1655 they inherited their first indigo plantations. The plant grown in the region was generally indigofera Suffrustiosa a flowering plant in the pea family which was used as a source for indigo dye. It was often referred to as 'blue gold' as it was an ideal trading commodity, high value, compact and long lasting. By the 1740's and the time when John Gordon came to the island sugar had replaced indigo as the main crop. What seems to have happened is that John Ellis either sold, or leased, a portion of his estates to John Gordon.
4.3 Also amongst Rose Fuller's papers is a letter from a James Oswald dated 3rd September 1756 in which he asks Rose Fuller to write letters of recommendation to his Jamaican friends "for John Gordon's brother Mr Gordon, who has gone to the island as an attorney" [Note:- trying to obtain a copy] so it would appear that George joined his brother in Jamaica in 1756. The 1761 accounts for John Ellis's estates clearly refer to George GORDON as Overseer of Green Castle (12).
4.4 At this point I need to introduce you to John GORDON's memorial tablet in St Peters Church in Dorchester as it confirms that he was already well established on the Island in 1760 when he was present during the slave riots.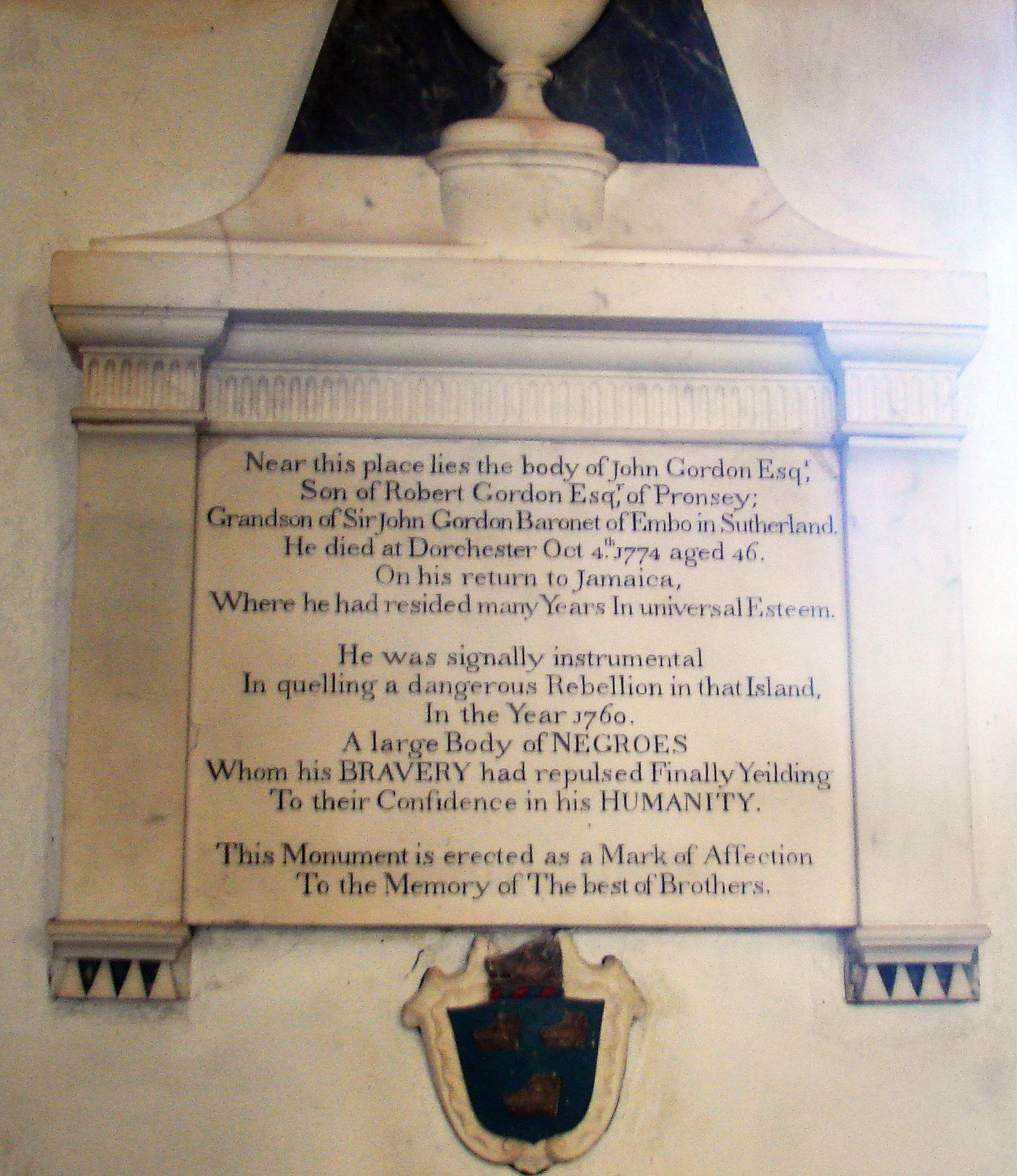 Memorial in St Peters Church Dorchester
[Note:- I would like a better image?]
Slave Riots of 1760: I have provided links again here to the excellent interactive map of Jamaica dated 1760-1761 which enables you to follow the progress of what were in fact 3 separate riots. The one we are most interested in is the first, St Mary's Revolt of April 8th 1760. The interactive map starts on the 7th so use the 'play' arrows at the top to progress to the 8th which gives you 14 stages in the riot with the text down the left explaining what happened. Use the right arrow again to progress through the stages following progress on the map. At stages 6 & 7 of 14 they have reached Esher where the text informs us that they killed Mr Norris the Overseer, a Surveyor named Castillo, a young lad named Gordon, and two other white men. Over the river just north east of Esher depicted on the map is upper and lower Green Castle which is where John & George GORDON lived. When any disturbance occurred the Militia were activated and in Jamaica any male between the ages of 16 and 60 had to participate unless incapacitated. John Gordon was 32 and as a plantation owner would have been one of the leading characters. If you continue it's evident that the rioters stopped at Esher and retraced their steps so this looks like the place where John Gordon, and probably George Gordon as well, are most likely to have faced the rioters. Clearly the event had made a great impression on George Gordon for him to add the text to the memorial tablet some 14 years later. There is no indication as to whether the young lad Gordon was any direct relation.
4.5 By 1764 John GORDON was married and according to the book "The Gordons of Sutherland" (3) he married Isabel(la) GRANT, the widow of James SUTHERLAND of Pronsie. It also suggests that John Gordon left her behind in Scotland, and settled in Jamaica where he was when she was struggling to get her jointure from Pronsie (13). This seems quite likely to be correct to me as traveling to Jamaica and establishing himself on the Island in the mid 18th Century was a risky business and he would have wanted to be sure that he had a stable income and somewhere healthy to live before bringing a wife. Also arranged marriages were common then, and Isabel probably had to be in Scotland or London to plead her case in the House of Lords which she did in 1755. There is also a possibility that some of her family were already living in Jamaica. We do know that only one child survived infancy, a boy they named Robert Home GORDON who was not born until 1765 which suggests that she may have come to Jamaica much later. The absence of other children also becomes more understandable as this was her second marriage. It is not known whether the trustees Alexander Grant and John Grant of Spanish town in Jamaica, named in John Gordon's will, were directly related to her but it seems likely. John GRANT was Overseer of Fort George Penn in 1762(12).
4.6 Whilst on the Island both brothers became close business associates, and later friends, with Robert Cooper LEE (1735-1794). Robert had come to Jamaica in 1749 to study law under the sponsorship of Rose Fuller and also became a respected Jamaican attorney. Many of the Lee family letters have survived and have been published in the book "A Parcel of Ribbons" written by Anne M Powers. The following letter is from George GORDON to Robert Cooper LEE and written on 22nd July 1771. George is writing from his residence in Jamaica whilst Robert Cooper Lee is still in transit on his way to England. Robert would have received it some time after his arrival at Dover on 29th August 1771.
Dear Sir,
I hope long er this comes to hand you will be safe arrived in England with your family in perfect health. and that you had a happie meeting with such of them as were there before you, which with every (illegible) happiness that can possibly atend you will afford me equal pleasure with any good event attending the subject of my own connection. The anxiety and uneasiness I am under on my nephews account induces me to beg a favour of you and Mr GRANT to have him removed from his mother which however hard she may think it may be absolutely necessary for his preservation and I am perfectly satisfied from the confidence his Father has in your friendship that there is no act of yours that will be considered as weal [well] intended as his own or mine. As you know that my Brothers sole happiness is inseparable from his Child's I shall offer no apology for giving you this trouble before you are well settled in England; Only assure you if ever and [an] Oppertunity offers by which I can evince my Gratitude for any trouble you take in this, as well as former favours it will give rise the utmost pleasure as I will ever remain yours with the most perfect esteem Dear Sir. Your most obliged and obedient Humble Servant
George GORDON
Anne Powers usefully comments:-
The concern that led parents to send their children to England to be educated related not only to the lack of good educational facilities (in) Jamaica, but also to the health risks that resulted in the deaths of so many children in infancy or childhood. Before Robert Cooper LEE had even arrived in England his friend Dr George GORDON was writing to him concerning his nephew Robert Home GORDON, the son of his brother John GORDON who was an indigo planter at Greencastle. It is clear from the letter that the parents were torn between the desire for their son's well-being and their preference to keep him with them.
4.7 The only Mr GRANT likely to have that sort of influence over Isabella was probably her father but I know nothing about him. What is clear is that the brothers wishes prevailed, and Robert Cooper LEE quickly arranged for Robert Home GORDON to come to England and be educated with his own son Richard LEE at Harrow. There is no further mention of John Gordon's wife so it is assumed she died shortly after this in Jamaica. In a letter written by Robert Cooper Lee to his wife Priscilla dated 30th August 1773 he talks about the arrival at Portsmouth of the long awaited 'Princess Amelia' from Jamaica. As a Royal Navy ship (80 guns) originally launched on the Thames on 7th March 1757 she had sailed for Jamaica on 3rd June 1771 and remained in the Caribbean until her return voyage to Portsmouth as a private ship under a new commander Andrew Berkley. Robert Cooper Lee states that Dr GORDON and Mr Mc LEOD had also come and that he has a letter from the former that talks of staying in Portsmouth a day or two & calling upon Mr LONG at Chichester on his way to town (London). This was Edward LONG (1734-1813) (11 ) who was clearly well known to John Gordon as Charlotte LONG, Edward's sister, was the widow of George ELLIS who's estate of Green Castle had passed to his brother John ELLIS and was now being managed by John Gordon. Edward Long had married in 1758 to Mary the daughter of Thomas Beckford and widow of John Palmer of Springvale in Jamaica. After the birth of their 4th child in 1769 they returned to England because of his ill health and had twin sons born at Chichester. Edward Long was to become famous for his book 'The History of Jamaica' which was published in 3 volumes in 1774 the year John Gordon died.
4.8 It may have been the death of his wife that prompted John GORDON to come to England, perhaps to tell his son in person, as he was still only 8 years old, and check on the arrangements made for his future. We know from the memorial tablet that John GORDON died at Dorchester on 4th October 1774 on his way back to Jamaica and was buried at St Peters Church in the high street on 6th. Thankfully he left a Will which he had only written on the 16th September 1774, probably conscious of his sons vulnerability and the dangers of a long sea voyage home. The first thing of note is he gives his place of residence as "the Parish of Saint Thomas in the Vale of Middlesex". This was also where Rose Fuller owned property. As can be seen on the 1794 map of Jamaica this is the inland parish immediately below the northern coastal parishes of St Ann's and St Mary's and which were all in the county of Middlesex. It is separated to the south from Spanish Town by the great ridge of the Blue Mountains. Parish boundaries appear to have changed over time, St Thomas in the Vale later becoming subsumed into that of St Catherine's Parish. Edward Long gives an excellent description of Thomas in the Vale in Volume II of his history of the island (pages 53 to 60). He refers to 41 sugar and 37 other estates being in the parish in 1768 worked by 8,382 negroes. No mention is made of indigo plantations and elsewhere in his book he refers to there being only 8 left on the island and John and George GORDON by the late 1760's clearly had established their own sugar plantations..
4.9 PLANTATIONS and PROPERTY: We are clearly missing a lot of information over the crucial period when John and George GORDON set up or bought their own sugar plantations. The information that I do have relates mainly to records that have survived from the late 1770's available at the University of the City of London (UCL) under their excellent "Legacies of British Slave-Ownership" website. I have provided a link to their listing of Estates - (input Jamaica as the Colony and select the update button). The map of Jamaica on their site resulted from surveys carried out between 1796 and 1799 and the map published in 1804. I have listed below the properties that The GORDON Family were involved in:-
HOME CASTLE - Bef 1774-1826 - Parish of St Ann situated inland from Dry Harbour - As far as I can tell this is one of the estates John Gordon left to his son Robert Home Gordon when he died in 1774. In 1775 it was producing sugar, rum, coffee, fustick, and logwood. Most later years simply record sugar and rum but in 1782 they list sugar, rum, coffee, pimento, cattle, horses, and pasturage. When Robert Home Gordon died in Sussex England in 1826 the estate passed to his widow Susannah Harriet Gordon. On 11th January 1836 Susannah lodged a claim for compensation for 354 slaves who had been freed by the Act of Parliament (Claim No. 498) for which she was paid £7,503. 4s. 8d.

RIVERHEAD Pen (Farm) - Bef 1774 - Aft 1779 Parish of St Ann - Was producing sugar, rum, coffee, fustick and logwood in 1775, Pimento and livestock 1776. Cattle, horses and mules in 1793. Recorded as a trust estate of Robert Home Gordon, a minor under the care and direction of George Gordon Esq as acting executor and trustee who filed the accounts. The estates of Home Castle, Dornoch, Riverhead, and Gordon Hall were all listed together [Jamaica Archives 1B/11/4/8/48]. George Gordon managed the farm until his death in 1778 when administration fell to John GRANT another of the trustees of John Gordon's will. Peter Gordon is also recorded as Overseer in 1779. Unfortunately ownership details are missing after this date but the same accounts were all being rendered together up to 1793. The farm was located on the west border of St Ann's Parish on the river just south west of the Dornoch Plantation on the 1804 map.

HAYFIELD PENWERE - Bef 1774 - after 1778 - St Thomas in the Vale - In 1741 Hayfield is recorded as the estate of the late James HAY from whom it took it's name. It was then producing sugar and rum. There is one entry for the year 1778 which is recorded as Hayfield Pen with Robert Home GORDON a minor (then aged 13) as the owner. It appears to have been a farm raising livestock, and presumably the property which his father lived in in 1774. It was sold prior to 1799 when John Hudson Guy is recorded as the owner.

CROMWELL Estate - 1789 - 1829 - Parish of St Mary's situated just below Esher. An estate owned by George Gordon producing sugar and rum. It was registered for the heirs of George GORDON Esq for the period 1779-1788. The accounts were generally registered by Gustavas MacFarquhar during the period 1779-1783 but by Colin Mackenzie in 1786 & 1787. Colin Mackenzie was John and George GORDON's nephew via their sister Elizabeth GORDON and clearly an attorney in Jamaica. From 1789 it is registered as the property of Robert Home Gordon until his death in 1826 when it became the property of his widow Susannah Harriet Gordon until her death in 1839. On the 26th Oct 1835 Susannah via her attorney Robert Fairweather lodged a claim (T71/856) for 325 slaves freed under the act for which she was paid £5,981.17s 6d. In 1798 a survey of Jamaica was carried out by James Robertson which he used to produce his map of 1804. Cromwell is shown as a sugar estate with two cattle mills

CLERMONT Pen - Bef 1823 - 1839? - Parish of St Mary - Robert Home Gordon's is recorded as a Lessee of this livestock farm in 1823 and the property passed to his widow Susannah Harriet Hope in 1826 as she is recorded as the lessee during 1829-1832. She died in 1839 so almost certainly was lessee up to that point. This is probably the property marked on the 1804 map as"R.H.Gordon's" south of the Cromwell estate

DORNOCH PLANTATION - Bef 1774- Parish of St Ann - Was producing sugar, rum, coffee, pimento, fustick, cattle, horses, pasturage and logwood. Part of the estate inherited from his father owned by Robert Home Gordon in 1775 and managed by George Gordon until his death in 1778. On Robert's death in 1826 passed to his widow Susannah Harriet Gordon who on 11th January 1836 lodged a claim for compensation (T71/857 - 499) in respect of 119 freed slaves for which she was paid £2,461. 9s. 4d. This is probably the farm shown on the 1804 map as "R.H.Gordon's" south west from the Home Castle estate.

GORDON HALL Penns - Bef 1775 - not identified unless referred to on the map as Mrs Gordon's south of Home Castle in the parish of St Ann's

Times 14th June 1842 page 7: The case of Barkley v Lord REAY. Robert Home Gordon's will had charged his estates in Jamaica with inter alia a legacy of £5000. The estates had produced £5,000 pa but now only £180 and was loss making last year. Consignees were not willing to make advances: the plaintiff sought receivership. Lord REAY as devisee in trust, had done all he could, one annuity still came before the legatee.