Background:

James Singleton (1832-1905) was born about the year 1832 in the small parish of Chillington in Somerset the son of William Singleton (1802-1869) by his wife Jane (1801-1879). The parish lies about 3 miles south east of Ilminster and 3 miles west north west of Crewkerne. The village even by 1872 had only grown to 54 houses and a population of 298 who were quietly being served by the Church of St James. Chillington was a stronghold for the Singleton family who were all agricultural labourers working on the nearby farms over many many years. James grew up in the village and in 1841 was still there aged 12 living with his parents,and his 6 siblings in Clay Lane. The following decade was a time of great change with the explosion in the growth of the Railways, revolutions throughout the continent and above all a period of great invention culminating in the Great Exhibition in Hyde Park of 1851. During this time several of William and Jane's children left Chillington for pastures new. His elder brother Samuel joined the Army as a private Soldier and was stationed at Fulwood Barracks in Lancashire in 1851 and James took a job in Marylebone working as a servant, so was ideally placed to embrace these new ideas.

By 1861 his brother Samuel was living in Twickenham where he married, raised a family and became the Innkeeper of 'The Lord Lyon' Beerhouse. He was to die there on 13th January 1873 leaving a modest estate of under £200 to his widow. By 1861 however James had returned to live with his parents in Chillington but far from labouring in the fields like his forebears he describes himself as a 'Photographic Artist'. He clearly was not going to build a career for himself in the world of Photography in a small backwater like Chillington and he appears to have headed for Dorchester. I suspect it was John Pouncy (1818-1894) and his work in developing photography that drew James to Dorchester in the mid 1860's but in any event he met here his future bride.

Marriage:

Frances Elizabeth BURFORD (1840-1916) was the daughter of a local carpenter John Burford (1810-1862) by his wife Mary Ann Fippard (1820-1896). James and Frances married in the 4th quarter of 1870 (GRO Dorchester Ref 5a/725) probably in St Peter's church in Dorchester where we currently do not have access to the marriage register. They settled to live at No.19 High West Street and he is shown in the census the following year as being resident at this address and operating as a photographer. He also appears under the Commercial Section of the Post Office Directory for 1875 as a 'Photographer' residing at 19 High West Street so clearly operated in the High street for a number of years.

Photographs by James Singleton c1875 :

So far I have only come across these two photographs which are displayed by kind permission of Michael Pitfield and depict two unknown members of the Pitfield Family. They are clearly early photographs with a fairy basic studio and inscription on the back of each card. We know he was at this address in 1875 from his entry in the Post Office Directory of that year, and he probably settled there after his marriage to Frances in 1870. James does not seem to have lasted very long in Dorchester and if these are the best of what he produced I suspect he would not have faired well in competition with John Pouncy. He is clearly a generation before Thomas Grigg (1857-1932) however.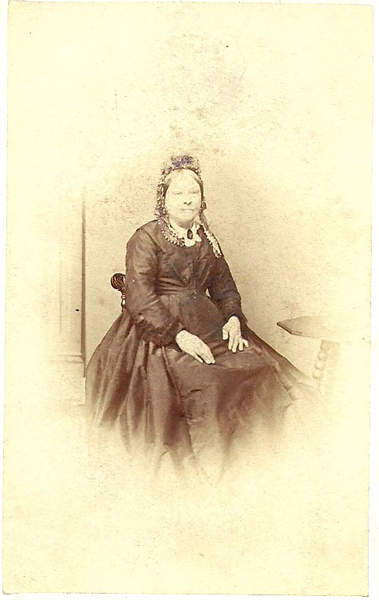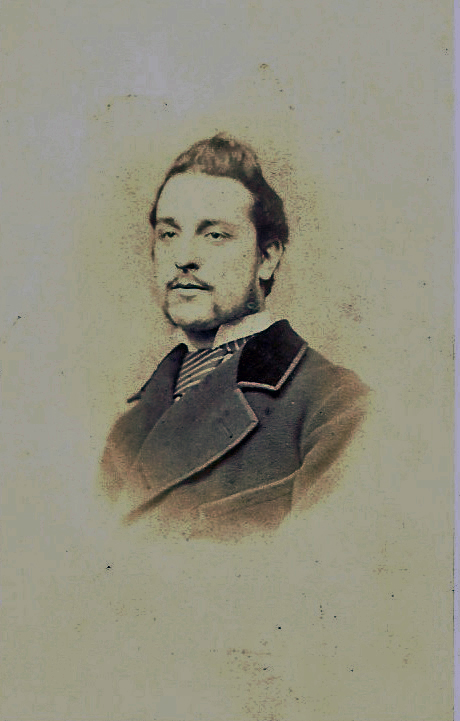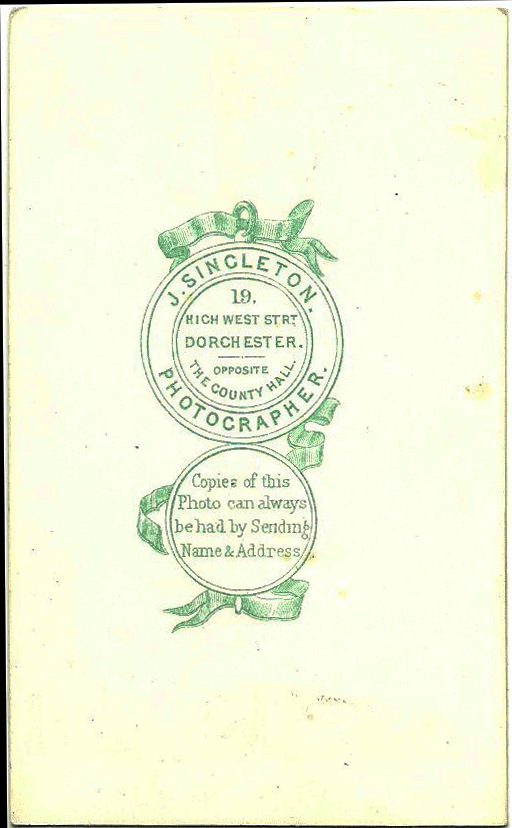 The 1881 Census shows that James Singleton was temporarily back in Chillington again with his wife Frances but still describing himself as a photographer. The main reason appears to have been to seek the support of his extended family as in the spring of 1880 Frances suddenly fell pregnant. She gave birth at the end of 1880 or early in January 1881 in Chillington to a baby boy that they named James after his father (GRO Chard Ref 5c/392). Sadly it seem clear that his photographic business was failing and by 1891 the family had moved with Frances to live in East Street in Bridport where James senior was working as a bakers assistant, a far cry from the ambitions of his youth. Frances supplemented their income working as a tailoress. Things did not improve and 1901 finds him working as a hawker or peddler in Bridport which is where he died at the age of 74 in the 3rd quarter of 1905. (Note:- Ancestry.com have not yet transcribed the parish registers for Bridport for the period 1900-1949)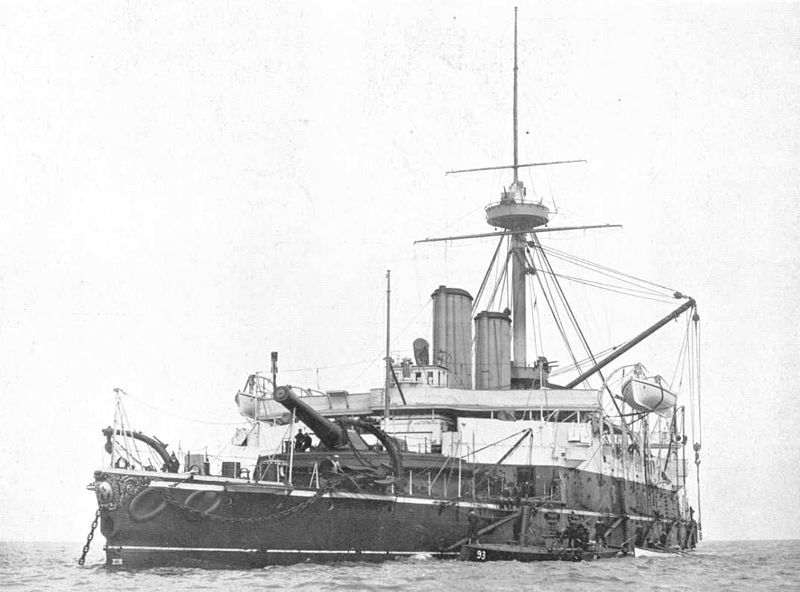 Their son James Singleton junior was 20 years old by 1901 and had joined the Navy and was serving on the 1st Class Battle ship 'HMS Benbow' under the command of Captain Richard P Humphrey. See picture to the left. At the time of the census HMS Benbow was part of the reserve squadron and anchored at Devonport. She was scrapped in 1909.
His widow Frances continued to live in Bridport but the death of her husband left her destitute and she is in the Bridport Union Workhouse in 1911. She died there in June 1916 aged 76.