Top of South Street - Cornhill - 1903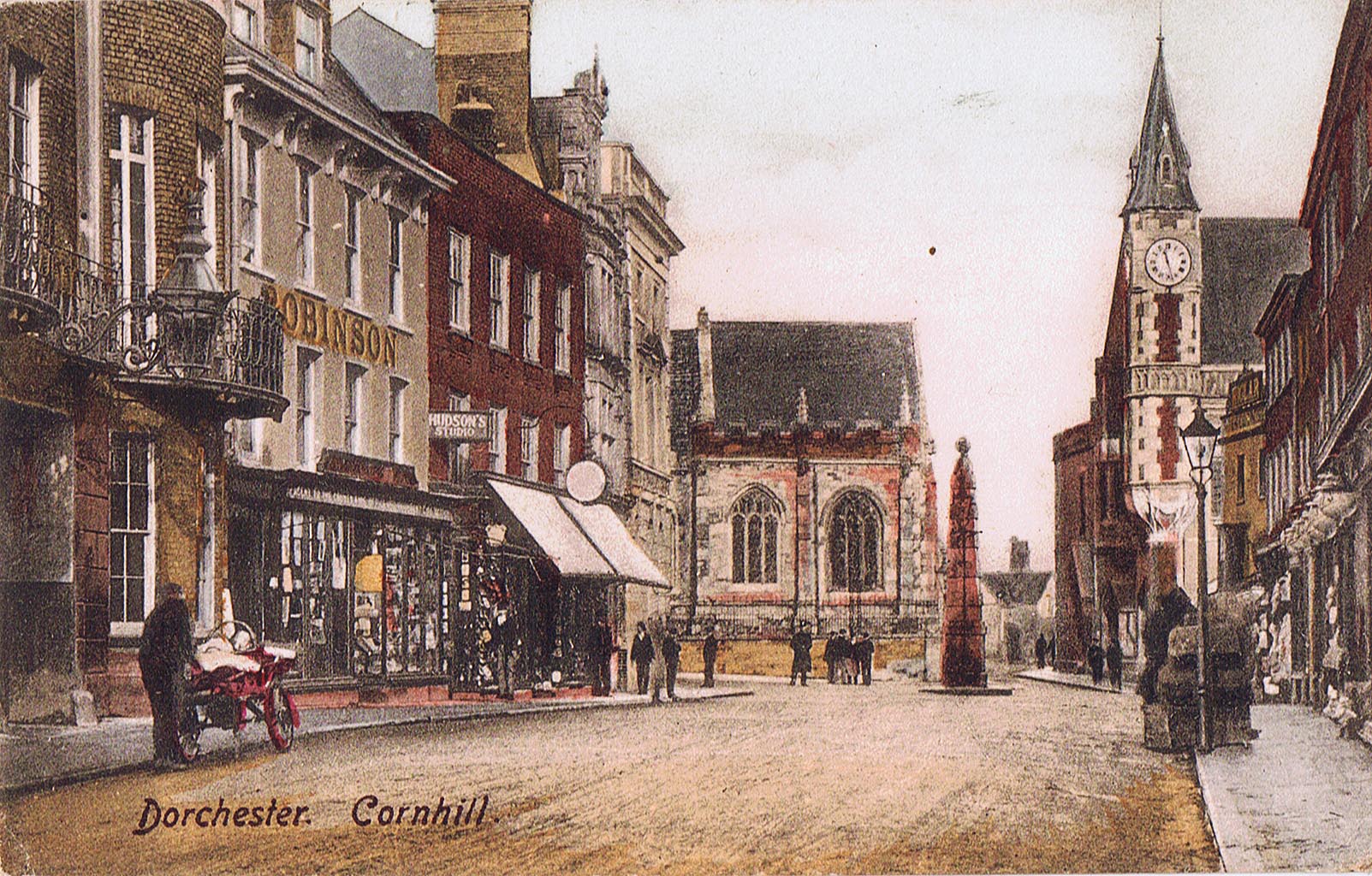 The same 1903 Frith image as previous Card 31, so it was issued several times
© Copyright Mr. M Russell FIPD All Rights Reserved


---
South Street - 26th June 2010
(showing the end of St Peters Church & the Corn Exchange)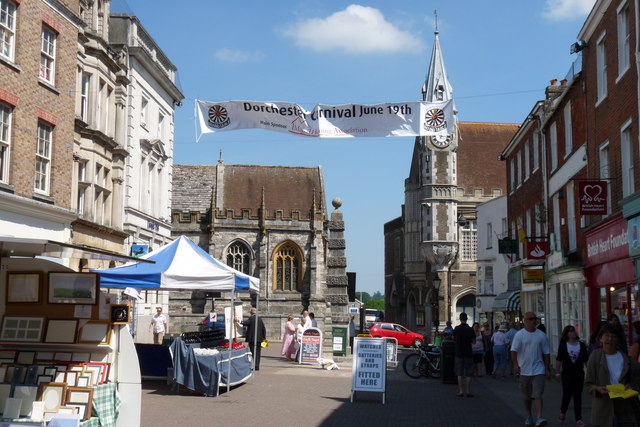 © Copyright Peter Trimming and licensed for reuse under the Creative Commons Licence

---
South Street - Town Hall / Corn exchange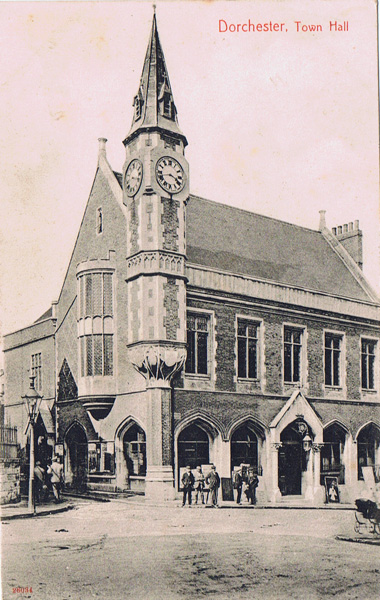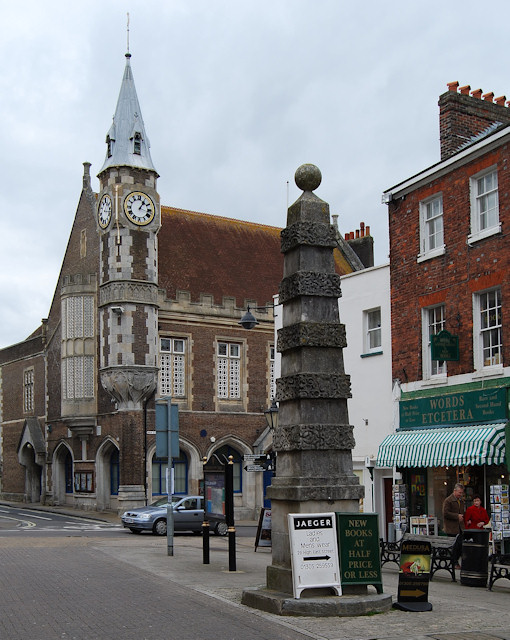 © Copyright (on the left) Mr Michael Russell FIPD -- (on the right) Gary Rogers licensed for reuse under the Creative Commons Licence

As can be seen the Town Hall has not changed much in over 100 years. The card on the left was posted in Dorchester at 11.45am on 23rd July 1904 by a gentleman to tell a young lady in North Lancashire that he had just been round the battle fleet. The picture on the right was taken on 18th March 2008. The obelisk now stands where the old water pump once stood.
---
South Street - Napper's Mite built 1616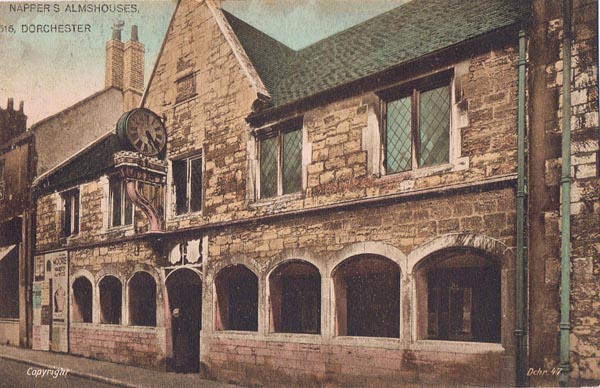 Napper Mite Alms Houses are located at 19 South Street at the lower end of the main pedestrian shopping Street. It was established by Sir Robert Napper of Middlemarsh in 1615 after the great fire of Dorchester 2 years earlier. It was built to house 'ten aged men' and was completed shortly after that year by his son Nathaniel Napper in 1616. It is difficult to date the above picture but probably taken just after the turn of the century. It shows the front elevation as it was re-built in 1842. The picture below was taken on 17th March 2009.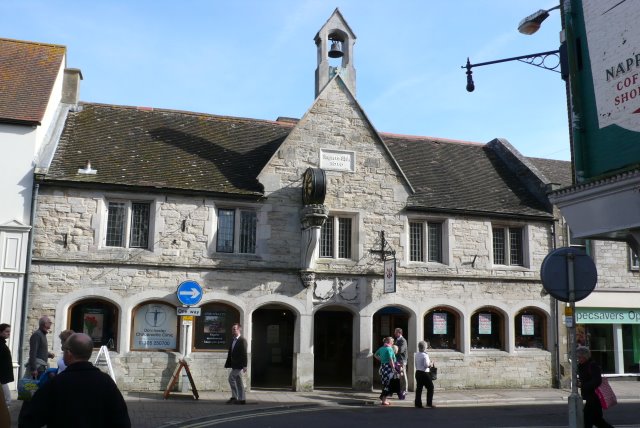 © Copyright Nigel Mykura and licensed for reuse under the Creative Commons Licence


Nappers Mite
At the rear of the Napper's Mite building there is a small garden and steps which back on to Charles Street. Although the front of the building was rebuilt in 1842, the Jacobean style can still be recognised in the back elevations with its tall brick chimneys. There is a small courtyard in the centre allowing you to pass through from South Street to Charles Street in Dorchester. Picture taken 23rd October 2009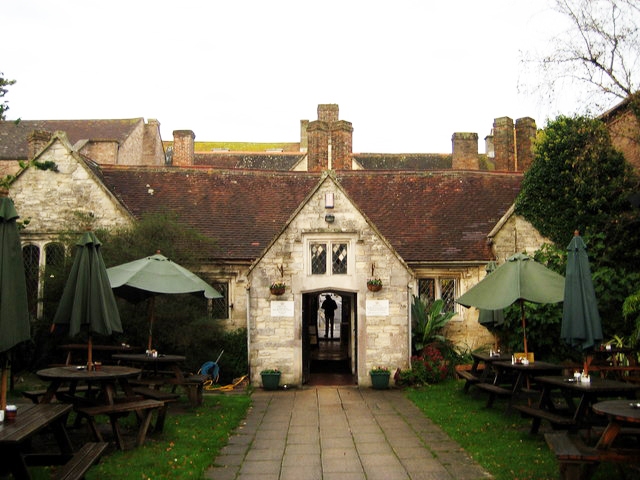 © Copyright Sarah Smith and licensed for reuse under the Creative Commons Licence