Sub Division Meeting - First Meeting
[Note:- Minutes of their first Meeting are missing and have presumably have not survived. These are normally a compilation of the various parish and tything lists submitted and the issue of an order/ summons for any missing to be rendered by the time of the next meeting]
Antelope Inn - c1943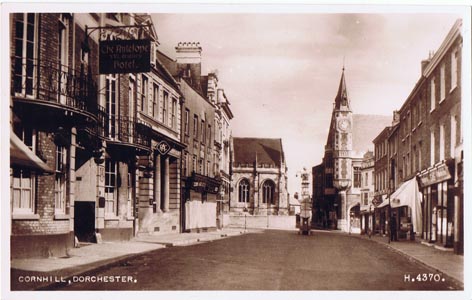 The Antelope Hotel (Inn) on the left closed in 1990's and is now
offices and the entrance to a shopping arcade (Negative Valentines H4370)
© Copyright Mr. M Russell FIPD private postcard collection
Sub Division Meeting - 9th April 1767----(Image 51)

At a Meeting of His Majesty's Deputy Lieutenants of the County of Dorset and Justices of the peace of the same County held at the house known by the sign the 'Antelope' in Dorchester in the said County for the Subdivision of Dorchester on Thursday the Ninth day of April One Thousand Seven Hundred and Sixty Seven (being the second meeting held in and for the said sub division pursuant the the order of the General Meeting held the Twenty Eighth day of October last) for the carrying into execution the Laws now in force relating to the raising and training the Militia in that part of Great Britain called England.
WE thinking it necessary and convenient to add together the lists of several parishes, tything's and places contained in their respective districts in the said sub division in the same manner as at the last Ballot in and for this sub division and it appearing unto us that the several persons who are hereunder mentioned have been legally discharged from the Dorsetshire Regiment of Militia for just causes are entitled to their discharges from serving in the Militia men in the said Regiment by their terms of three years being expired therefore pursuant to the power vested in us by Law We do hereby confirm the discharges of all and every such men from serving in the said Militia and instead of the men so legally discharged and of those who have occasioned vacancies by death or otherwise since the last Ballot belonging to the subdivision have this day chosen by lot the several persons likewise hereafter specified to supply such vacancies according to the number of vacancies in each district Vizt:- Died discharged or term of service expired in the District of Dorchester in the sub district of Dorchester.
Died discharged or term of service expired in the District of Blandford in the sub district of Dorchester.
3 years expired the 14th May 1767 - Paul DAVIS of Shilding Okeford, labourer substitute for Ben Whiles [or White?] of Pimperne Warnership, barber
3 years expired the 14th May 1767 - John BIMRONE of Puddletrenthide, labourer
3 years expired the 15th May 1767 - John BARTLETT of Dorchester, cordwainer substitute for John AMEY of Puddlehinton, servant [See also Image 25 1764]
3 years expired the 14th May 1767 - Thomas BLACKMORE of Shaftesbury, tiler substitute for James DOVER of Cerne Abbas, wool sorter
3 years expired the 14th May 1767 - Joseph BAKER of Mappowder, labourer substitute for William BARBER of the same, labourer
3 years expired the 14th May 1767 - Richard CURLEY of Knighton, labourer
3 years expired the 14th May 1767 - Thomas SNOOK of Stalbridge, cordwainer substitute for Henry SAMWAYS of Alton Pancras, labourer
3 years expired the 14th May 1767 - Thomas DUNFORD of Winterbourne Stickland, labourer ----(Image 51)
3 years expired the 14th May 1767 - John ROBBINS of Hilton, labourer ----(Image 52)
3 years expired the 14th May 1767 - John FURBER of Blandford, gardener substitute for John HARVEY a Harvey of Milton Abbas, Yeoman
3 years expired the 14th May 1767 - Thomas COLE of Dorchester, servant
3 years expired the 14th May 1767 - Robert NOTTING of Spetisbury, cordwainer substitute for Samuel CLARKE of Blandford, Victualler
3 years expired the 14th May 1767 - Samuel BUTT of Colliers Piddle substitute for John GUY of Cheselbourne, carter
3 years expired the 14th May 1767 - Thomas CHANNING of Blandford, labourer
3 years expired the 14th May 1767 - Richard WHITNOLE? of Blandford, glazier substitute for John KNIGHT of Pimperne Warrenship, joiner
3 years expired the 14th May 1767 - Thomas LEGG of Tolpuddle, labourer
3 years expired the 14th May 1767 - Thomas BURLEY of Thornford, labourer substitute for Israel FAROLE of Cerne Abbas, cordwainer
3 years expired the 14th May 1767 - John HERMON of Blandford Lni?, weaver substitute for James FROST of the same, taylor
3 years expired the 14th May 1767 - Joseph BONNETT of Milborne Stileham, tanner substitute for Thomas EYRES of Melbourne Churchstone, taylor
3 years expired the 14th May 1767 - Thomas POPE of Tolpuddle, labourer
3 years expired the 14th May 1767 - Richard HARVEY of Blandford, labourer substitute for John DRAKE of the same, barber
The Dorchester District
Discharged? 13 Sep 1766 being poor with Wife & 3 children - Richard WHITE of Forthington, labourer
Discarded absent on oath of Constable - John HARRIS of West Knighton, labourer
3 years service expired 15th May 1767 - James VINCENT of Forthington,
3 years service expired 15th May 1767 - John JONES of Blandford, gun smith substitute for John NEWMAN of Mill street Forthington, carpenter
3 years service expired 15th May 1767 - John READ, late of Dalewood now of Dorchester substitute for Robert AYLES of Bradford Peverell, labourer
Enrolled 28th Aug 1766 Discharged 3rd Sep 1766 being (illegible) John PROWSE of Dorchester [Note Holy Trinity] Cooper
3 years service expired 21st May 1767 - Edmund ARCHOLE of Sutton, cordwainer
3 years service expired 10th May 1767 - Munday DYER Junior of Melcombe Regis, shipwright
3 years service expired 10th May 1767 - William ROSE of Dorchester, labourer substitute for William WALLIS of Wakeham in Portland, labourer
3 years service expired 10th May 1767 - Joseph WHIFFON of Milton Abbas, labourer substitute for John DESKOTT of Chessel in Portland, labourer
3 years service expired 10th May 1767 - James SPICER of All Saints Parish of Dorchester, Servant [See also 1764 Image 21]
3 years service expired 10th May 1767 - James STAINER of Forthington, labourer substitute for Edward GREGORY of Galton, labourer [See also Image 25 1764]
3 years service expired 10th May 1767 - Amos DENNIS of Dorchester, labourer substitute for James WATERS of Preston & Sutton Pointz, labourer [See also Image 25 1764]
3 years service expired 14th May 1767 - Henry FORSTER of Whitechurch, labourer substitute for William BRAGGE of Dorchester, taylor
3 years service expired 15th May 1767 - Robert GROVES of Dorchester, cordwainer substitute for William WHITE of Wabyhouse, blacksmith [See also Image 25 1764]
3 years service expired 15th May 1767 - John GRAHAM of Melcombe Regis, labourer substitute for John LAWSON as LAWSON of Southwell in Portland, mason
3 years service expired 15th May 1767 - William STROUD of Bincombe, servant
3 years service expired 15th May 1767 - John CROSS of Wootton Fitzpaine clothier substitute for Samuel COSSONS of Winterbourne Abbas, carpenter
3 years service expired 15th May 1767 - William HARBIN of Dorchester, labourer substitute for HONEYBUN of Poxwell, carter [See also Image 25 1764]
3 years service expired 15th May 1767 - Richard CROSS of West Knighton, carter
And the following persons have been this day chosen by lott to supply this above vacancies for Blandford District----(Image 52)