Fordington
Postcards and Pictures
All these postcards come from the private collection of Steve Poulter a member of the Dorset Post Card Club
(based in Fordington) and I am grateful for his permission to display them. Contributions are always welcome.
Michael Russell OPC Fordington 2008
St George's Church Fordington, 1904

St George's Fordington viewed from Icen Way 1907

Fordington Hill

Dorchester viewed from Fordington Church Tower

General view of Dorchester 1913
The Romana Stone

Can currently be seen inside St George's Church to one side of the tower door. Discovered when the floor of the porch was lowered on 5th February 1908.

The Latin inscription may be translated as "For Carinus Roman Citizen, aged 50 years. Rufus and Carina and Avila his children and Romana his wife had this set up."

For this reason it is also known as the Carina Stone. Dorchester was known to Romans as Durnovaria and carinus was probably a notable citizen.
Other Pictures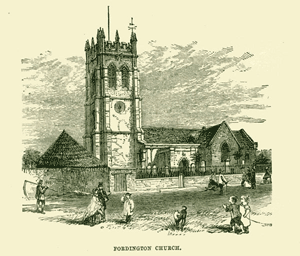 Fordington St George circa 1845