Witchampton
Roll of Honour

Transcribed from Plaques in the Parish Church of St Mary, St Cuthberga & All Saints and from the War Memorial in the Churchyard by Kim Parker for the Dorset OPC Project.



Witchampton War Memorial

© Kim Parker 2012

TO THE GLORY OF GOD

AND IN THANKFUL REMEMBRANCE OF

THE MEN OF MOOR CRICHEL, LONG CRICHEL

AND WITCHAMPTON

WHO GAVE THEIR LIVES FOR THEIR KING AND COUNTRY

IN THE GREAT WAR

1914 – 1918

AND

1939 – 1945

WITCHAMPTON


Lance Corporal Walter DENNETT

20 OCT 1914

Private Henry George TUBBS

19 FEB 1915

Private Walter Henry DOMONEY

15 OCT 1915

Driver Reginald Arthur GALE

24 JUN 1916

Gunner Edward Francis DOWLAND

04 MAR 1917

Gunner Martin Augustine CHRISTOPHER

24 MAR 1917

Rifleman William George BASKETT

10 APR 1917

Private Henry Charles DEW

18 AUG 1917

Sapper Morgan Philip ROBERTS

28 DEC 1917

Driver Arthur John MAIDMENT

18 APR 1918

Private William George CHRISTOPHER

24 APR 1918

Private Herbert DOMONEY

22 JUL 1918

Private Maurice Bennett GILBERT

10 DEC 1918

WHO GAVE THEIR LIVES IN THE GREAT WAR

1914 - 1919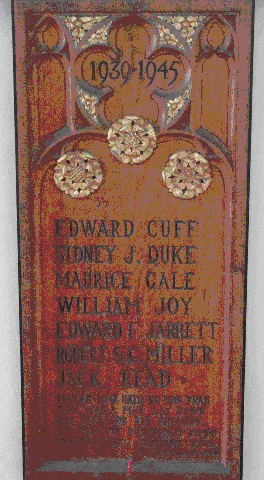 Memorial Plaque in the Church
© Kim Parker 2010

1939-1945
Edward CUFF
Sidney J. DUKE
Maurice GALE
William JOY
Edward F. JARRETT
Robert S. G. MILLER
Jack READ
Greater love hath no man than this, that a man lay down his life for his friends.
Ye are my friends, if ye do whatsoever I command you.
St John, Chapter 15, verses 13 & 14
§§§§
Also commemorated on the War Memorial in the Churchyard:
LONG CRICHEL
Harry BENNETT
Charles BENNETT
George FRAMPTON
Ernest George KENDALL
James GODDARD
Sidney LEVER
MOOR CRICHEL
Reginald John Benjamin CARTER
Harry Charles CHRISTOPHER
Marcus Wilson COOMBES
Arthur FUTCHER
Harry GILBERT
Reginald Arthur GALE
Lester Staples HOLLOWAY
Harold Willis KIMBER
James RIDEOUT
Captain the Honourable Gerard Philip Montagu Napier STURT Coldstream Guards
John Thomas STEDMAN
Clarence WITHERINGTON
NAPIER, 3rd Baron Alington R.A.F.
Francis DOWDING
Kenneth MILLER
Gordon BUDDEN
Roy KING